The department at work has a weekly tradition of having Friday morning tea, with everyone volunteering to bring in goodies in turns.

This week was my turn and I had been tearing my hair out, trying to think up something yummy to bring in that hasn't already been brought in. We've already had scones, cupcakes, chocolate cake, coconut slice, apple strudel, coffee cake and even a cheese platter.

Then walking past a bakery, I caught the whiff of baking cinnamon and the dark sweetness of syrupy sugar, and the hunt for the perfect cinnamon roll began.

However I am a picky cinnamon roll person. The dough has to be light and fluffy and the cinnamon flavour absolutely decadent, but the combination must never ever be too sweet. Most people I know prefer the toothachy sweet versions, but if you aren't one of them, I have a treat for you.

I spent 2 days experimenting with dough to cinnamon sugar ratios. The result: the unperfect perfect cinnamon roll.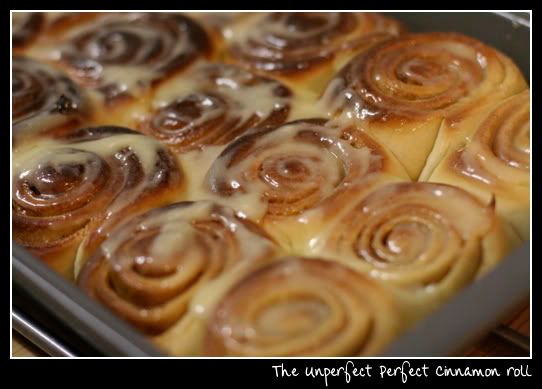 INGREDIENTS (DOUGH)
235 ml warm milk (110 degrees F/45 degrees C)

6 g salt

100 g white sugar

10 g yeast

2 eggs, room temperature

75 g butter, melted

615 g plain flour
INGREDIENTS (CINNAMON SUGAR)
110 g brown sugar, packed

1 tablespoon ground cinnamon

50 g butter, melted
INGREDIENTS (FROSTING)
47 g cream cheese, softened

25 g butter, softened

95 g confectioners' sugar

Splash of vanilla extract/essence

Pinch of salt
DIRECTIONS
Pre-warm the oven at 50 degrees C for 5 mins and turn off.


Whisk the milk, sugar and yeast before putting it into the warm oven to sit for 15 mins or until the solution is frothy. Be careful not to let it go too hot, as it'll kill the yeast.
Once frothy, whisk in the eggs, salt and butter before adding the flour. Do so gradually, mixing in the flour well until the dough begins to form.
Once 3/4 of the flour has been mixed in, turn out the dough onto a floured surface and start kneading softly, gradually adding the rest of the flour as you go along. The dough will be very soft, tacky (not sticky) and it'll take about 8-10 mins of elbow grease to knead it into a lovely ball of dough.
Once done, replace the dough in the bowl, cover with a damp tea towel and return to the warm oven for it to rise for at least an hour or so.


In a small bowl, combine brown sugar and cinnamon.


After the dough has doubled in size (poke your finger in it - if it springs back, let it rise some more), turn it out onto a lightly floured surface. Roll dough into a 16x21 inch rectangle. Spread dough with the melted butter (use a brush if you can to get to the very edges) and sprinkle evenly with sugar/cinnamon mixture.


Roll up dough from the longest side and cut into 1.5" / 4cm thick rolls with string or dental floss. Place rolls in a lightly greased 9x13 inch baking pan with about 0.5"/1.3cm space between each roll. Cover and let rise until nearly doubled (about 30-45 minutes). Meanwhile, preheat oven to 400 degrees F/200 degrees C).


Bake rolls in preheated oven for about 15 minutes or until golden brown. While rolls are baking, beat together the ingredients for the frosting. If they are little hard to work, stick in the microwave for 10 second intervals to soften the ingredients further. Spread frosting on warm rolls before serving.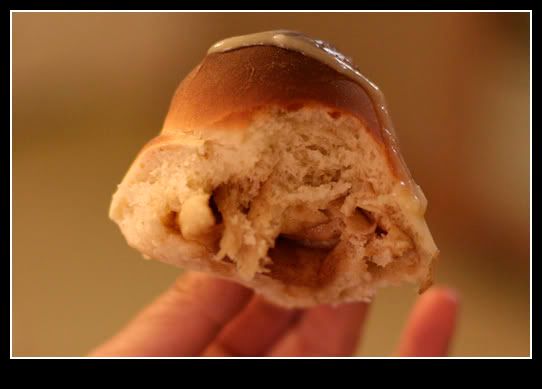 Note: If you're really pressed for time, microwave the milk and butter for 1 min on high to warm and melt them. You can also freeze the rolls and allow them to defrost to room temperature before baking them when you need them.

If done perfectly, you will get this light airy fluffy dough with a heady flavour of cinnamon and an almost honey sweetness from the brown sugar.

Oh, and these were very well received at Friday's morning tea. (^_^)