There's something wonderfully comforting about having warm lasagna, on a plate balanced on your knee in front of the television. Sinking your fork through layers of pasta, savoury meaty tomato filling and a creamy white sauce. Can anything else be described as heavenly?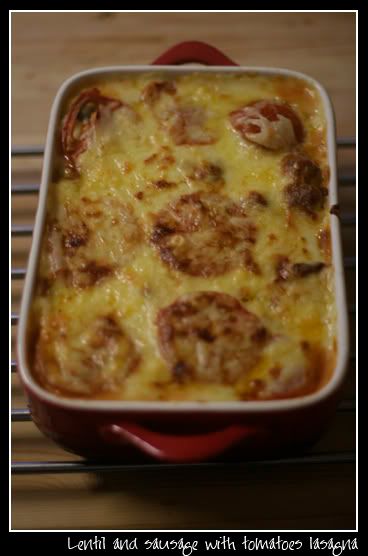 Since our fridge ran out of mince, I dug into our permanent stash of sausages instead for a chunkier meat sauce and got lazy with making my own tomato base, but switch the pre-prepared bolognese sauce with a can of tomato puree and sprinkle of oregano, basil, thyme and rosemary if you have the time to make it.

Meat sauce:



1 large onion, chopped

1 cup of brown lentils

Half a large capsicum, chopped

1 cup of mushrooms, chopped

3 sausages, browned and cut into bite size chunks

1 bottle of bolognese sauce


Brown the onions in a large enough saucepan. Add the chopped ingredients and sauce to bring to a boil, before left to simmer for 10 mins. This is a good time to start the bechamel sauce.

Bechamel sauce:

60g butter, chopped

1/3 cup plain flour

4 1/2 cups milk

75g cheddar/tasty cheese, grated

Good pinch ground nutmeg


Melt butter in a medium saucepan over medium-high heat until foaming. Add flour. Cook, stirring, for 1 to 2 minutes or until bubbling. Remove from heat. Slowly add milk, whisking constantly, until mixture is smooth. Return to heat. Cook, stirring for 10 to 12 minutes or until sauce comes to the boil, thickens. Remove from heat. Stir in cheese and nutmeg.

Now the truely fun bit - assembly.


Uncooked lasagna sheets

2 tomatoes, sliced


I used to try piling lasagnas 4 layers high, but with the chunky meat sauce, don't attempt this with more than 2. It just won't hold its shape well enough (and my dish just isn't that deep anyway).

Start with a layer of meat sauce at the bottom, layer the uncooked lasagna sheets and pour some bechamel sauce over. Spread as evenly as possible before arranging the sliced tomatoes. Repeat and top with more grated cheese (breadcrumbs would add more crunch and is optional). Bake in a 170ºC oven until brown.