I swear I died and gone to Heaven.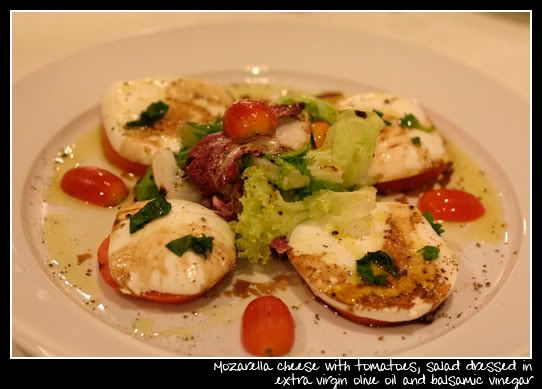 puress was late, so we ordered this to munch on while we waited. This salad was refreshing and you can taste the quality of the balsamic vinegar and olive oil in the dressing. The mozzarella is firm with a subtle taste, complimenting the tart dressing and fresh vegetables.
And as the appetiser, it was perfect as it got our stomaches fired up.
Price: About SGD 16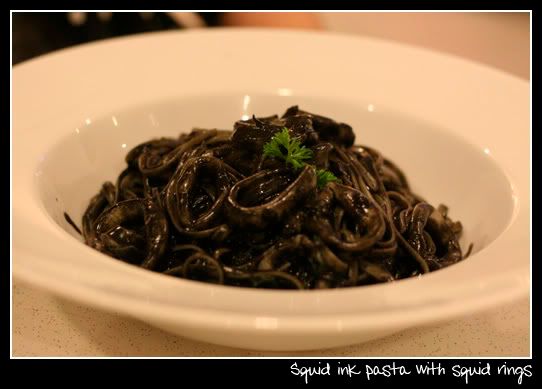 I will the first to admit that squid ink pasta is not my thing. It's black and black isn't quite the most appetising of colours for food. However, this was actually pretty darn good. The squid rings were perfectly cooked, which is an accomplishment in itself. Badly cooked squid resembles rubber bands, but this is the furtherest from it. The serving is also huge!
purence only managed to down half the serving.
Price: About SGD 20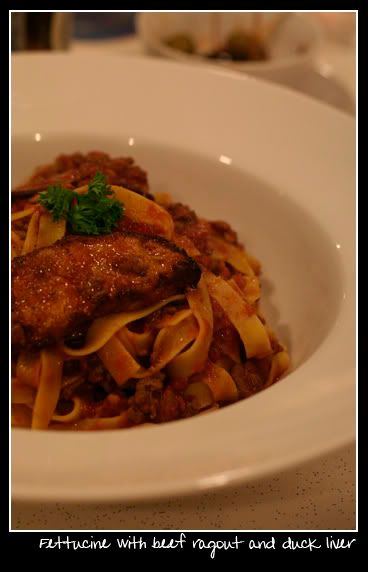 This pasta was originally offered as duck ragout and duck liver in the menu, but I got it in beef ragout instead. When I first tasted it, I was reminded of the pastas at Da Paulo. That's how good it is. The freshly made fettuccine is the perfect al dente texture. The 2 pieces of duck liver literally melts in your mouth.
Price: About SGD 24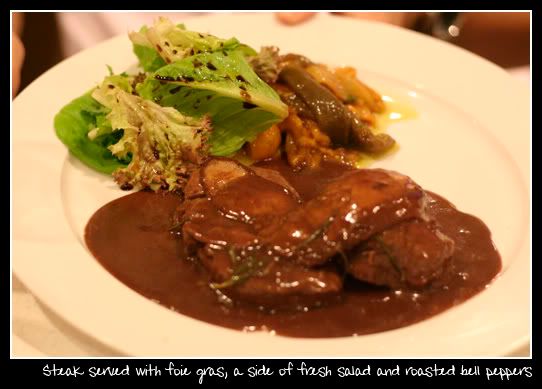 Although the steak was ordered as medium raw, half of it was well-done. This is probably due to the uneven cut of the meat, but despite this, the steak was succulent and juicy.
Oh, and the foie gras!!! We were gushing at how beautifully it melted on the tongue and fills up the mouth. All you want to do is keep it in your mouth to savour the flavour.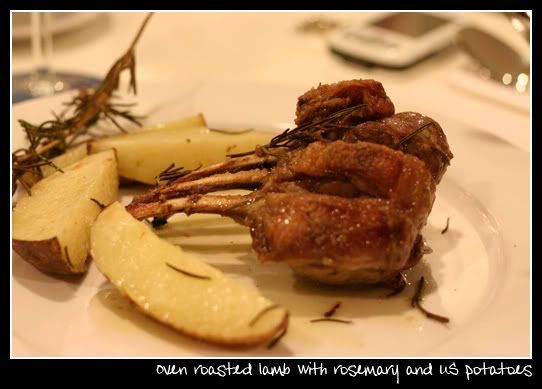 Lamb is not one of the best things to order when you're really hungry. It was a 20 min wait for this, but well worth it. Like the steak, it was a little overcooked, but it still did nothing to impede the flavour. Beautifully cooked and soft.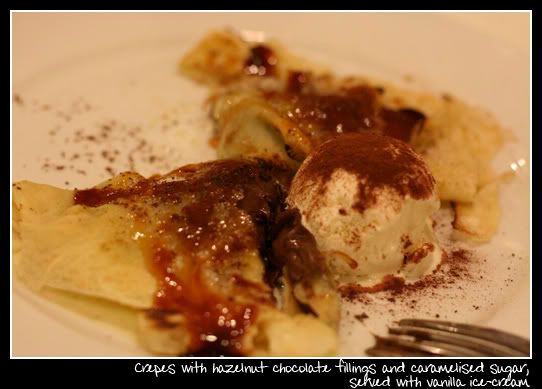 If you have a chronic sweet tooth, this is the dessert for you. The caramelised sugar lends a interesting crunchy texture in every mouthful and balances out the sweet hazelnut chocolate with a tinge of bitterness. A light dusting of cocoa over the top mellows out the sweet ice-cream.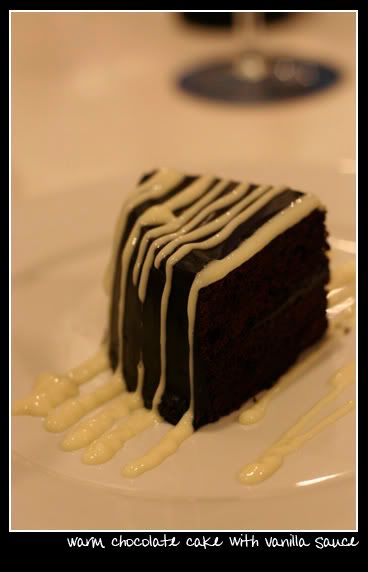 The things I can say about this chocolate cake... *swoons*
It's served warm and is not as sweet as most chocolate cakes. It is also not heavy or dense, but soft without being overly spongy.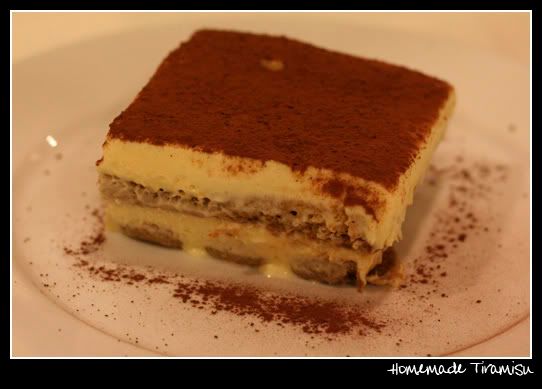 This is by far the best Tiramisu my mouth has ever had the honour of eating. This homemade concoction was homemade between owner Augustine and Italian chef, served with a dusting of cocoa powder without frills. Unlike most establishments, the serving is a hefty square 10cm by 10cm and is the perfect balance between the cream and soft sponge layers (best shared if you wanna go for the full course meal of appetiser and mains as well).

Because this is homemade, special order requests can be made in advance (eg. Baileys instead of marsala). Imagine the esctacy in that dessert!

The meal total for 4 people, including a bottle of red wine (sweet and lovely, from Pemberton) and a beer came up to SGD 210.

I can only compare the food to Da Paulo's in Chip Bee Garden. Do not even think of comparing this to pasta joints like Pasta Mania, cuz the quality is in another league of its own. It certainly isn't fine dining, offering a much more casual family dining setting. Definitely worth the visit if you love your authentic Italian and can't be arsed to be overly posh.