A girlfriend and her hubby recently opened their own restaurant, so
purence and I thought we'd catch up and check out the fare.

And it's damn awesome!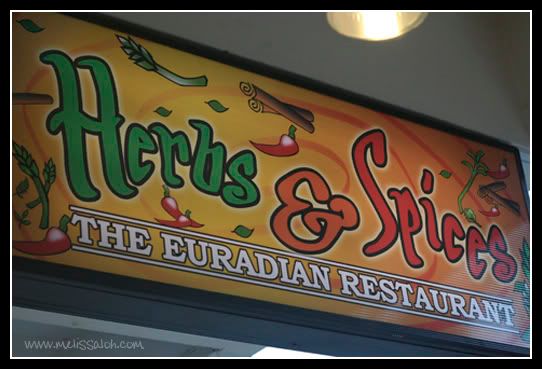 The meal started with a serving of pappadams and a saucer of mint chutney. The chutney was yum! The yoghurt mellowed out the mint and they added pepper to it, which lended a decent kick when dipped.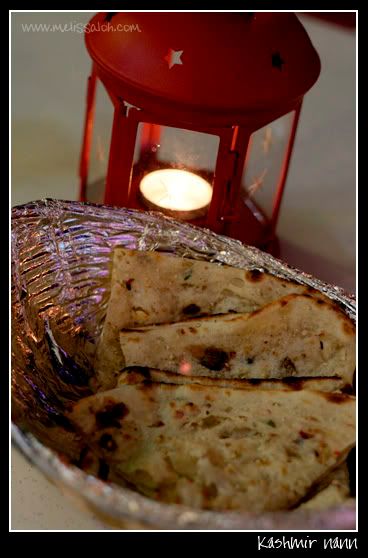 We had both rice and nann, but it was the nann that best accompanied the variety of dishes we ordered. We tried the plain, butter and kashmir nann (as a bit of a snack with sweet mango chutney). The dough was light, dry and not too chewy at all.

My recommendation is to try the kashmir nann, if you have a bit of a sweet tooth and don't mind a light sprinkling of dried fruit and nuts. And you MUST ask for the mango chutney to go along with it as well.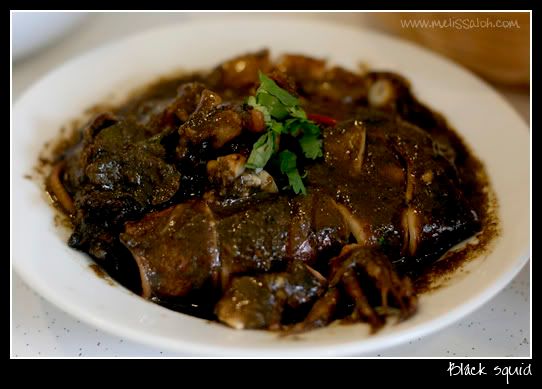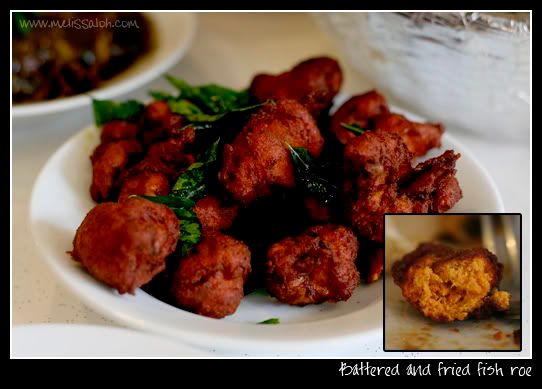 I honestly thought this was chicken, possibly tandoori. But it turns out to be fish roe, deep fried with curry leaves. It's absolutely heavenly and surprisingly lacked the trace of fishiness you'd normally expect from fish roe. Each piece is slightly larger than a KFC popcorn, and when drizzled with a little sauce from butter chicken or mint chutney, it soaks up the flavour and explodes in your mouth.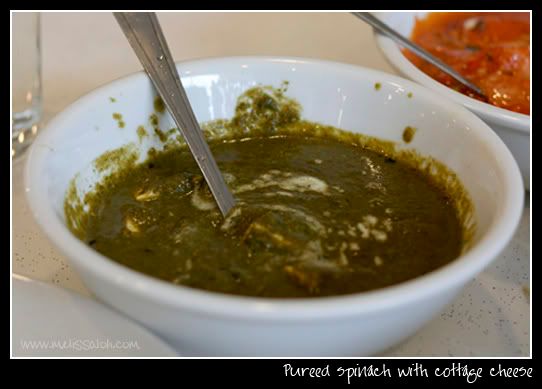 We were happily ladling large spoonfuls of this onto both rice and nann. How can spinach taste this good?!
This dish was the first thing we finished and I would've licked the bowl, if we weren't sitting next to a window. The texture of the cottage cheese is fairly firm and taste mild, so those who have an aversion to the characteristic smelly feet cheeses have, will find this dish a pleasant surprise.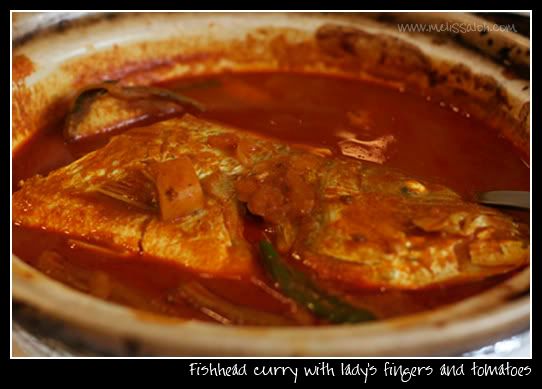 And finally: the pièce de résistance!
Now, I've tried a lot of fishhead curries and my preference is for a good balance of the sour and spiciness of the curry. This was it! It's not terribly sour nor extremely spicy. And the curry is not too watery, nor too thick.
And because the fishheads are supplied direct, the freshness is evident in how firm the flesh is as it falls off the bone and bursts in your mouth as you chew. With seafood this good, we were moaning in complete estacy.

Prices are also extremely reasonable and comes across as a family restaurant. Each dish serving are approximately SGD5 each and the gavy that accompanies the dish is generous, great for those who love to slather their rice with gravy.

Here are the contact details:
Herbs and Spices: The Euradian Restaurant
207 Upper Thomson Road
Yew Lian Park
Singapore 574346
Tel: 6252 9038

They do take-away, home & office deliveries (SGD20 and above), and cater for functions. As parking in the area can be a hassle during mealtimes, the girlfriend's hubby actually took takeaway orders over the phone and then waited along the sideroad in front of the restaurant for the customer to drive along to make the pick-up. How's that for service?

And come February, an Italian menu will be added to their current selection.

x-posted on
sg_makan