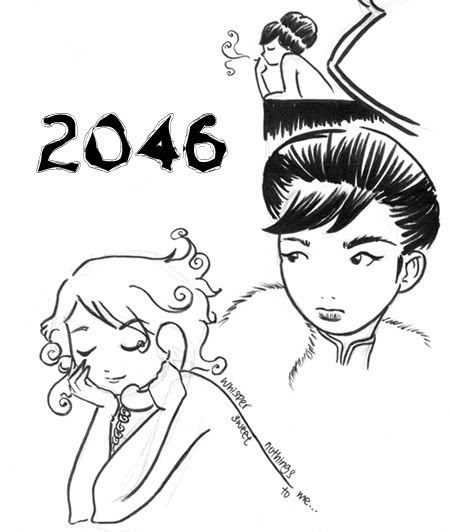 Having not watched 'In the Mood of Love' (which I hear is a prequel to '2046'), I was apprehensive about watching this film.

But it didn't matter, cuz the time lines in this one is just completely wacked. There seem to be a lot of metaphors going on and flashbacks between the make-believe world of 2046 and the old days of 1960. Tony Leong plays Chow Mo Wan, who writes these stories about 2046 for newspapers... but these stories reflect his thoughts and the people he encounters.

The story may take a little mental acrobatics, but the cinematography is terribly tempting. Especially scenes with Faye Wong (Wang Jing Wen/Android on 2046 Train) and Zhang Ziyi (Bai Ling). Faye Wong randomly reciting Japanese phrases as the camera watches her feet dance and twirl across the floor was hypnotic. Plus her scene with Takuya Kimura (Tak/Wang Jing Wen's Boyfriend) makes me wet my pants.

Zhang Ziyi on the other hand, is so super 'tao', it's sexy. Even when she slapped Tony across his face, it was sexy. That pain looked more like pleasure.

Cheongsams, oh her cheongsams. How can a garment maximise a woman's sex appeal and accentuate whatever curves she has so deliciously...