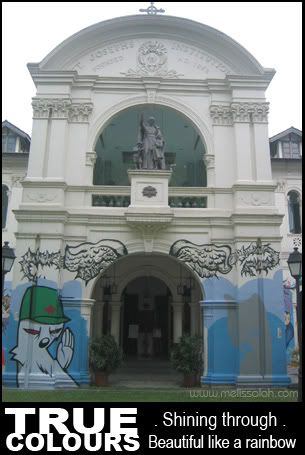 Imagine my surprise to see graffiti style art covering the old Saint Joseph's Institution (now the Singapore Arts Museum).

It's cliche, but ROCK ON!

Cream and white might look fantastic in the 1800s, but the burst of colour is definitely very refreshing... not to mention, daring. If I were one of the artists asked to take a spray can to a national monument, I'd be quaking in my $2 flip-flops.


And seriously, every other building in the district is also cream/white. Booooring.

Move over, skater bois. This is art... not them dumbass signature scrawls in only 1 colour, cuz you could only afford 1 can of spray paint.

OK, I'll stop my lame-ness now.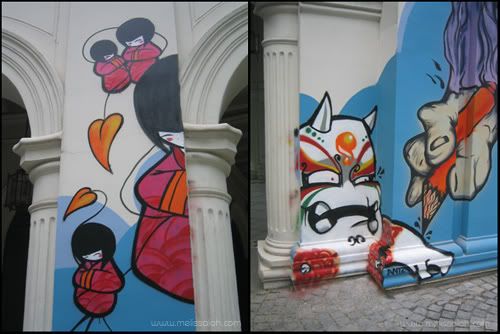 These murals are at least well-thought out and any blind Joe can tell what the overall theme is.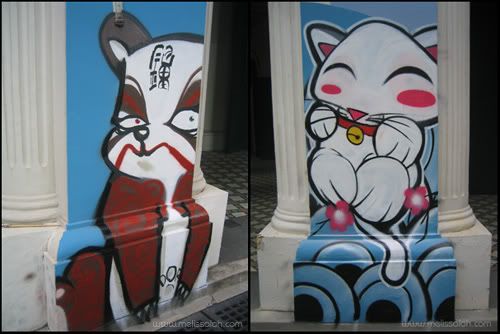 These two are my favorite. The bear has this 'du lan' face that just makes me laugh. Ad the kitty... well, it's a kitty. Therefore, I like.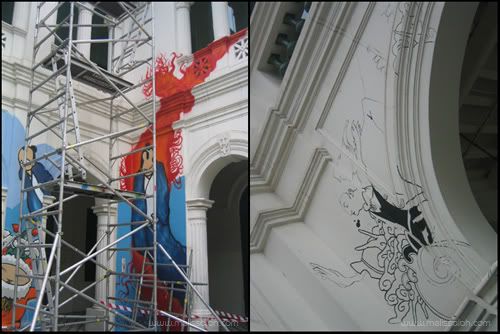 They're still working on it every other night, but this'll be up hopefully through the month of June. I heard it'll all be white-washed, so snap your own set of shots before then.

Oh, did I mention they'll be selling wine at the 'Off The Wall party at SAM' this Saturday (27 May)?

Alcamahol!