On the final night of the conference leg in Melbourne, I was offered the opportunity to join the speakers' dinner at the Butcher's Grill in Melbourne's Docklands.
It was amazing! After dreary days of rain and sad weather, the heavens decided to grace us with a gorgeous sunset overlooking the water - the perfect setting to the end of a successful conference in Melbourne.
Butchers Grill
features a Mediterranean style menu with prominence for grilled Australian meat. If there's something to be said about
Butchers Grill Meat
at its Docklands location, they have amazing real estate and would be well-worth a visit for romancing.
However, I would've preferred our food to have arrived hotter. The conference organisers had booked out the restaurant, so understandably the kitchen might've been overwhelmed with trying to serve everyone at once.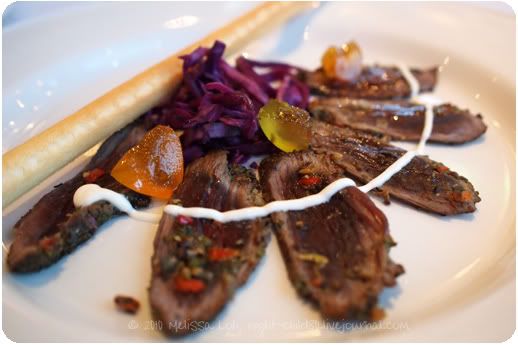 Seared pepper crusted kangaroo with mustard fruits & cabbage salad AUD$17
(

Collapse

)




Butchers Grill Meat & Wine Room
Docklands
439 Docklands Drive Pavilion 1
Docklands, VIC 3008
Australia
Tel: +61 (03) 9640 0696