Despite having my flight delayed (thanks Melbourne airport), I was able to catch the conference partners-in-crime for a rather unexpected dinner, picking up a speaker enroute.
Upon a suggestion and no idea where to head, I whipped out my iPhone and Maps to help us navigate the maze of Melbourne city to
Longrain Restaurant & Bar
. It led to a 10 min walk from our hotel, working up our appetites, but upon arrival we were told to expect a wait till 9pm for a table.
Undaunted and rather intrigued by the rustic decor, we sat at the drinks lounge area and it didn't turn out to be such a long wait.
To the uninitiated to Longrain or Asian dining, it might seem a little strange to be seated along long or round wooden benches. But it facilitates conversation and a sense of community with everyone - even perfect strangers on either side - and sharing several main dishes with steaming jasmine rice.
And these main dishes are amazingly fresh and zingy. If you love Thai food and want to experience it with a modern twist,
Longrain
is the place to be. Expect a delicate perfect balance of sweet, sour, salty and spicy - and share!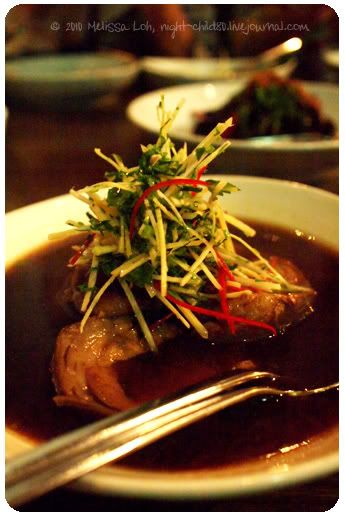 Braised lamb shoulder
with ginger asian celery & chilli
AUD$ 35

This tasted nothing like lamb.
In fact, if you had me guess what it was, I would've said pork.
The flesh falls apart like slow cooked pork.
The colour resembles pork.
The flavour of the lamb is so mild.
Absolutely glorious!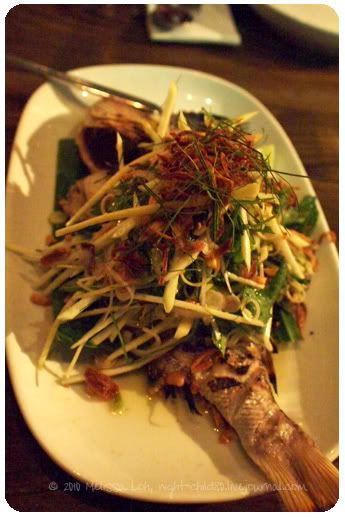 Crisp whole baby snapper
with chilli tamarind & lime relish
AUD$ 46

This fish was the pièce de résistance!
Everything - and I mean everything - about it was perfect.
The salad was fresh and tingled with the tartness of lime.
And if you're afraid of chilli, fear not.
The bite is mild, but lends a subtle nudge in the right direction.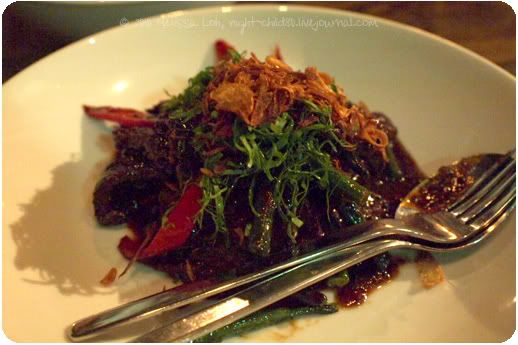 Stir fried spiced beef
with chilli jam flat leaf coriander & fried shallots
AUD$ 39

The beef is hearty and packs a punch in flavour.
Do not attempt this dish if you're not prepared for a mouth explosion.
Not pictured green papaya salad.
Longrain Restaurant & Bar
44 Little Bourke Street
Melbourne
VIC Australia 3000
Tel: +61 3 9671 3151
Email:
melbourneinfo@longrain.com