The SO spent a couple of days in Melbourne, so we had heaps of fresh produce still left over from the week before and we kept our purchases low.
Welcome to our week's groceries from the fresh produce shop Fruits of Life at Garden City, just outside Woolsworth.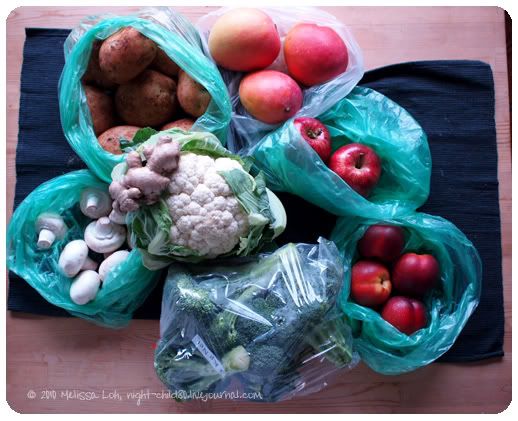 Mangoes x 3

Apples x 2 (457 gms)

Nectarines x 4 (482 gms)

Broccoli x 4

Potatoes x 8 (2.2 kg)

Cauliflower x 1

Mushrooms x 237 gms

Ginger x 83 gms
Total spend was AUD 27.61.
Ordinarily we wouldn't buy potatoes (for carbs, I much prefer rice, couscous or pasta), but the father-in-law made a special request of potato bake for the mother-in-law's birthday family dinner. Throw in chopped bits of bacon and Maggi's Recipe Mix Vegetable Sensations Three Cheeses Potato Bake with milk, and tadah! The most awesome lazy man's potato bake.
That's if our oven would work. Somehow no matter what temperature I turn it to, it's only gets warm enough to warm my toosh.