Everyone should have their own fried rice recipe to fall back on days you have leftover rice you wanna use. Or when those hunger pangs need a little bulk to shut them up.
This one is one of my favorite versions of fried rice - nasi goreng. It's a Malay version with a heavy fragrance of shrimp paste that is absolutely moorish. The aroma explosion when you fry the paste is mindblowing, but I highly recommend shutting bedroom doors to avoid the heavy fumes of onion, garlic and the shrimp paste from lingering in your linens.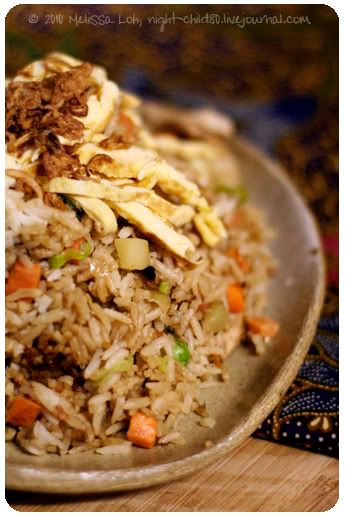 Serves 4
INGREDIENTS (GARNISHING)
3 eggs, beaten

Salt and pepper to taste

Shallots, thinly sliced

1 cucumber, thinly sliced
DIRECTIONS (GARNISHING)
Beat the eggs with salt and pepper. Heat a little oil in a frying pan and make an omelette with half the egg mixture. Turn on a plate to cool. Do not fold the omelette. Repeat with remaining egg mixture.


When cool, roll the omelettes together and cut to thin strips. Set aside.


Deep fry the shallots until golden brown and remove from heat quickly as they burn easily. Set aside.
INGREDIENTS (NASI GORENG)
2 onions

2 cloves garlic

0.5 tsp dried shrimp paste (blachan)

300gm chicken/pork/beef/prawns, thinly sliced

1 cup frozen vegetables

4 cups cold cooked rice

2 tbsp light soy sauce

6 spring onions, chopped
DIRECTIONS
Place the onions, garlic and blachan in a blender. Blend until the mixture resembles a paste. Heat oil in a wok or large frying pan, and fry the paste until cooked.


Add the chicken/beef/pork/prawn and frozen vegetables, stirring continuously until cooked through.


Stir in the spring onions and rice, mixing throughly before adding the soy sauce.


Garnish with the omelette strips, fried shallots and the cucumber.