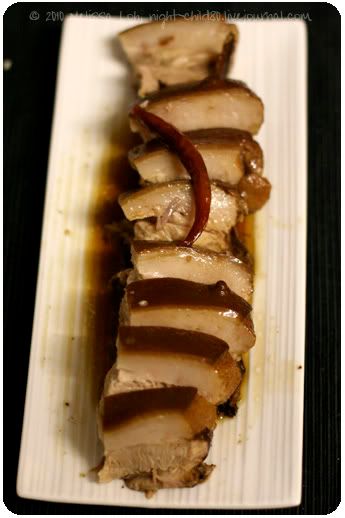 I have inherited a deep love of pork from my dad. It is said that when he was younger, my maternal grandmother would cook monsterous pork legs in a thick syrupy soy sauce and my dad would dive headfirst into devouring them.
So when I heard that
Superbutcher
was having a sale on pork, we headed down to pick up some pork belly. It's a cheap cut, but with a little time and patience, it's a decadent treat.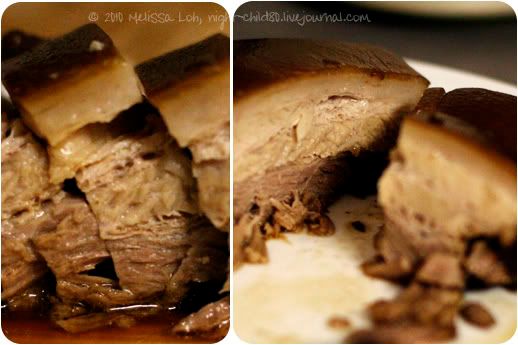 Slow braising pork belly is easy peasy. This recipe can be used on pork hocks, knuckle, trotters or shoulder. Throwing in some hard boiled eggs and cubes of hard tofu is optional.
INGREDIENTS
1.5 kg of pork

2 green onions, cut in 6 cm stalks and tied together

1 head of fresh garlic

0.5 cup light soy sauce

4 tbsp dark soy sauce

3 tbsp Chinese cooking wine

2 tbsp sugar (I prefer brown sugar)

1 cinnamon stick

1 star anise

Water
DIRECTIONS
Bring a pot of water to boil and place the pork in. Bring it all back to boil and remove the pork.


Using either a pot or a big clay pot, place the pork fat side down and throw in the green onions, garlic, soy sauces, wine, sugar and spices. Add enough water to cover the pork. Cover and cook over a medium heat for 30 minutes or so until the pork is cooked through and become tender.


If you prefer your pork super tender and falling apart, continue to simmer on the lowest heat for another 15-20 minutes. Serve hot with steamed white rice and fresh vegetables.