Riding home from work tonight, I hadn't expected a delivery waiting for us at our door. Last week had been what I thought was our last Farm Fresh Central order - 4 weeks of the small mixed box.
So seeing it sitting there was a surprise.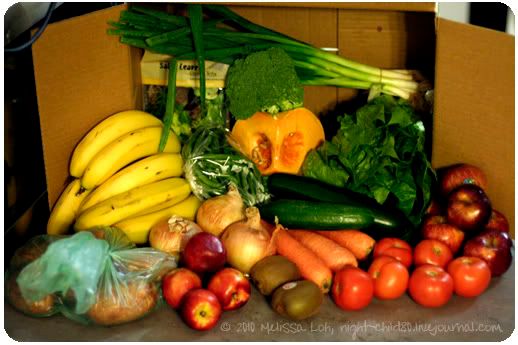 Beans x1 bag

Broccoli x1 head

Carrots x3

Cucumber x2

Romaine lettuce x1 whole

Onions (white) x3

Potatoes (unwashed) x6

Pumpkin x quarter

Salad leaves x1 box

Spring onions x 1 bunch

Tomatoes x6

Apples x6

Bananas x4

Kiwi x2

Nectarines x4
Good thing we hadn't place an order with another provider just yet, but guess I'll be on the phone to Farm Fresh Central in the morning.
Edit: Turns out the Farm Fresh Central ordering system doesn't have an end date, so you have to call to tell them to either cancel or put orders on hold indefinitely.