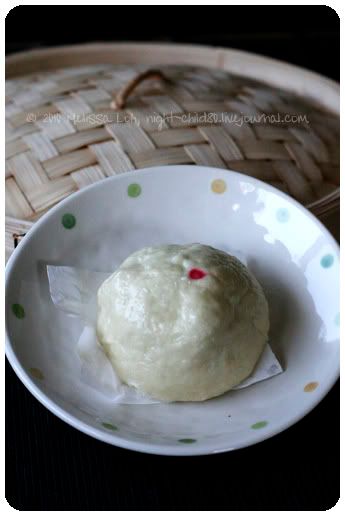 After blogging about Shanghai Noodle House's pork buns, I thought I would do some homemade ones. It's not terribly difficult and the result is piping hot yumminess straight out of your own steamer. So here's a recipe for bun dough.
You can basically stuff the buns with almost anything - red bean paste, lotus paste, chicken mince, etc. In this case, I went with a simple pork mince, mixed chopped green onions with sesame oil, soy sauce and a splash of rice wine. But be imaginative and use whatever you have in the kitchen.
INGREDIENTS
500 gms plain flour

40 gms sugar

2 tsp dry yeast

1 tbsp baking powder

260 - 280 ml water

20 gms oil
DIRECTIONS
Place yeast in a bowl and add warm water. Mix well with 1 tsp of sugar and allow to sit for 5 mins. Air bubbles should appear and the mixture should expand in volume.


Mix the flour and sugar in a bowl. Pour in the yeast mixture, baking powder, water and oil, before kneading well until the dough is smooth. Cover and allow to proof for 1 hour or until the dough has doubled in size.


When ready to use, divide the dough into equal pieces and roll into round dough skin (thinner at the edges, thicker in the centre). Wrap filling to form buns and allow to proof for 30 mins. Steam over medium heat for about 15 mins. Serve warm.
If you're making different varieties of buns at one time (sweet red bean and savoury pork ones), it's a good idea to mark them with a little dye, so you'll know which is which. Here I dipped the tip of a takeaway chopstick in pink food colouring to mark a pork bun.