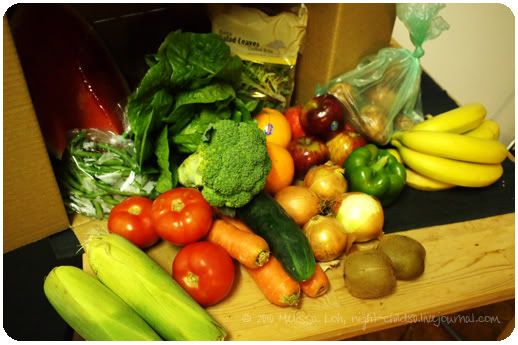 This is our last box with
Farm Fresh Central
and it held more than one surprise.
Beans x1 bag

Broccoli x2 heads

Carrots x3

Capsicum x1

Corn x2

Cucumber x1

Romaine lettuce x1 whole

Onions x4

Potatoes x6

Salad leaves x1 box

Tomatoes x3

Apples x6

Bananas x4

Kiwi x2

Orange x2

Watermelon x1 third
The first surprise was this delivery came in a cardboard box.
The second is how much lighter the box feels compared to previous weeks'. Perhaps it's because in terms of variety, this week's delivery has 2 items less.
The third is how ripe this week's produce is. The tomatoes are usually rock hard, hard enough to possibly hurt someone if thrown right. But this week's tomatoes were well on their way to ripe-dom. As can be said about the watermelon and carrots. This is not a bad thing - it means I don't have to wait almost a whole week to be able to use the produce.
All in all, the
Farm Fresh Central
shopping experience has been very efficient. The deliveries are like clockwork. Our credit card has been charged per week, rather than the one bulk payment when you order. Their newsletter is emailed every week or so.
I enjoyed having such a large quantity of produce, though having that many oranges is a little nuts. The good thing though is
Farm Fresh Central
's ordering system would allow me to exclude any particular vegetable/fruit - an advantage for anyone with allergies. They're not organic though and more than enough to feed us through the week - with wastage.
But with this box, it's time to try out the next company.
Do you have a fruit and vegetable box supplier to recommend?