On a whim, a colleague insisted I should check out Shanghai Noodle House in Sunnybank. Apparently - according to said colleague - Shanghai Noodle House originally used to be in the city, but the old couple who ran it decided to move to Sunnybank instead some time ago. Perhaps it was to be closer to home or gently ease into retirement, who knows.
The SO and I have walked past the little eatery a number of times, when we visit Yuen's Supermarket to pick up asian food supplies (large sacks of rice, salted plums, balachan blocks, that sort of thing). But nothing about it enticed us to go in - the simple decor is reminiscent of corner shops in southeast asia and rainbow coloured papers promoting various dishes in Chinese are tacked to the walls.
The menu are mostly just text: English and Chinese. Thankfully the English names are not airy-fairy names that communicate nothing about
what
the dish actually is, so for the less adventurous, this is a plus.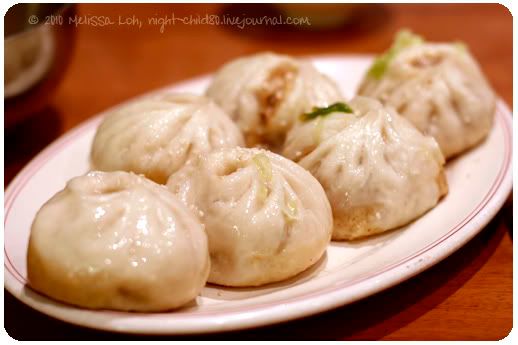 Lightly panfried steamed pork buns
I've had panfried jiaozi (餃子)/gyoza and I've certainly tasted steamed pork buns, but never have I tasted the two in a clash of the dishes before. The textures are amazing and when dipped in the dark vinegar and dried chilli oil (which you have to combine yourself from the condiments table at the front), the flavour just explodes.
This dish has a time warning of 15 minutes though. Ours took about 30 mins, but I suspect it's because the chef forgot about the order.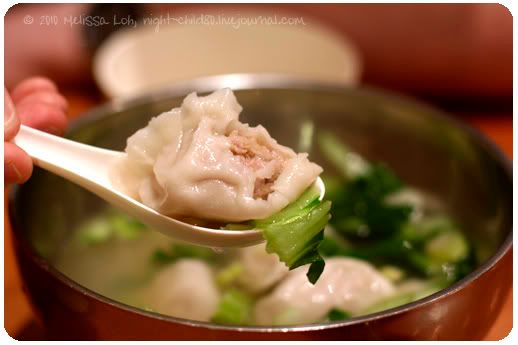 Wontons in clear soup
I giggled when the bowl of wontons came in the traditionally Korean style metal bowl. These are not bad, but nothing amazing. The clear soup has flavour and I reckon great for chillier winter days, when a warm tummy is desired.
Not pictured is the Lion's Head (狮子头), fatty pork balls about the size of my fist. We had the red variety, served in soy sauce alongside a serve of rice. Savoury and really soft, but if you're particularly health-conscious, avoid. If you can't resist, I recommend you share this with your meal buddy.
The food is inexpensive - everything pictured above is about AUD$7-9 each. Not a bad place to grab a satisfying lunch/dinner.
Shanghai Noodle House
Shp13/ 341 Mains Road
Sunnybank QLD 4109
Tel: +61 7 3345 4963