ainead
has been sending me cryptic little emails that she was organising a very
very
late 30th birthday present for me. Given my birthday was in May and it's October, you can probably forgive me for thinking I
really
shouldn't be expecting anything this time of year. Despite my protests 'no, you really don't have to', she apologised that she hadn't done anything sooner due to her wedding prep (is this girl for real?!).
So when I got a text message from
ainead
late this week if we could have lunch, as she had something to pass to me, I sorta knew what was coming.
But holy crap and omg, it wasn't just some
thing
. It was something
s
, well and far beyond anything I expected.
Even Phillippe got something
(which very unfortunately doesn't fit his chubby Volks Yo-SD feet. Boo.).
I could write about each item (BtSSB hair bows! Tomato seeds! Silk ribbon and fabric!), I'm dedicating this entry to these two items.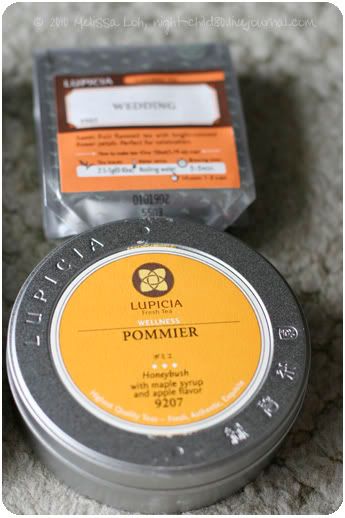 I was first introduced to
Lupicia
by
bankevair
(
BerryTravels
) down in Melbourne and happily swear by their amazing range of teas to any tea addicts out there - including
ainead
. We even visited their store in Tokyo.
So when I saw these teas (Pommier, a rooibos tea and Wedding, a red tea) and the Lupicia tin, I was floored. I remember eyeing the Pommier in the limited edition Christmas tin when
bankevair
and I first went to the shop, and to think I now have some to have at home. Every tea they have is gorgeous and despite never having tried the flavours she had choosen, I knew I would love them. And I do!
ainead
goes absolutely ga-ga over
Jetoy
and can you blame her?! Their designs are toothache inducingly adorable and has cats! Me! Cats! Wants! If we ever make a trip to Korea, I'll be hunting down Jetoy goods the way I pounce on Swimmer in Japan.
When she first got her organiser diary, I was so jealous. My moleskin looked ridiculously Plain Jane next to hers. Now thanks to
ainead
, I have my own collection of kitty cat pages. It's too pretty to write in though.
Everything is gorgeous and I know you would've spent so much selecting everything so carefully. Thank you a gazillion hexatrillion times,
ainead
!