While the SO was helping friends move out, I decided to wander and check out this cafe I've been telling myself to visit for ages. Located along Merthry Road past New Farm Central, Cafe Bouquiniste is the tiny quaint establishment the locals want to keep a secret from the rest of the world.
Eclectically decorated with lovingly worn wood tables, wares and books on a variety of interests, Cafe Bouquiniste sits only 13 people within its walls, 6 out the front by the bus stop and possibly 8 or so around the side under the canopy.
The tiny kitchen churns out a small menu of brunch and lunch items on the weekend. As it was still early and I was trapped by the rain, I opted for a skinny latte. All their coffees are $3 and though a little weak for my taste, very decent.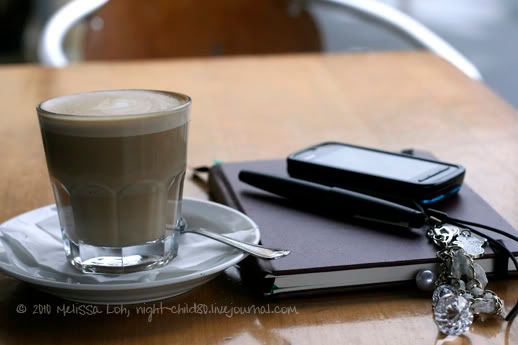 Cafe Bouquiniste appears to attract a loyal clientele of people looking for a simple quiet spot to read, or an intimate retreat for pairs or groups of close friends. With heads bowed together in conversation, each cluster appear to be in worlds of their own and not the least bit concerned about the lack of space.
This is certainly not the kind of place for large rowdy groups (especially if you're planning an all-out lunch meet), but if you're in need of some 'me' time or - like me - shelter from the spring rain, Cafe Bouquiniste just might be the hideaway for you.
Cafe Bouquiniste
121 Merthyr Rd
New Farm, QLD 4005
Tel: +61 7 3254 1226