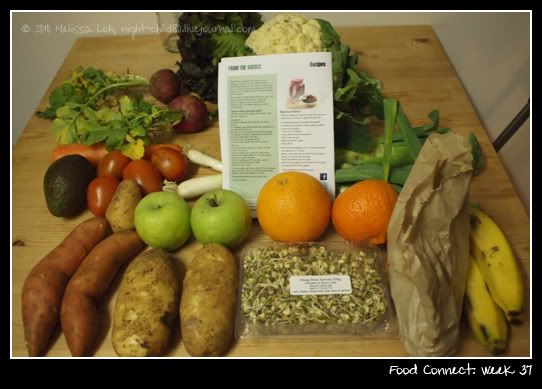 In this week's Food Connect mini box:
Avocado x1

Califlower x1

Carrots x1

Leeks x2 stalks

Lettuce x1

Ming bean sprouts x1 box

Potatoes x3

Radish x2

Sweet Potatoes x2

Tomatoes x4

Apples x2

Bananas x3

Mandarins x1

Oranges x1

Strawberries x8
Not entirely sure how to use mung bean sprouts, I made a quick salad and tossed some in. They are amazingly crunchy! I could definitely get used to having them around more often at our dinner table.
This is unfortunately the last week we have with
Food Connect
. We could easily become long-term subscribers and I can understand how subscribers become fervent supporters of this enterprise. It is not often a supplier makes the tangible effort to connect with its customers on more than the product level and this is possibly one of the most enjoyable purchase I've had. I have no doubt we'll be back soon to try out the other products Food Connect have to offer.
However, this is a challenge and I do have another contender to evaluate:
Farm Fresh Central
Do you have a fruit and vegetable box supplier to recommend?