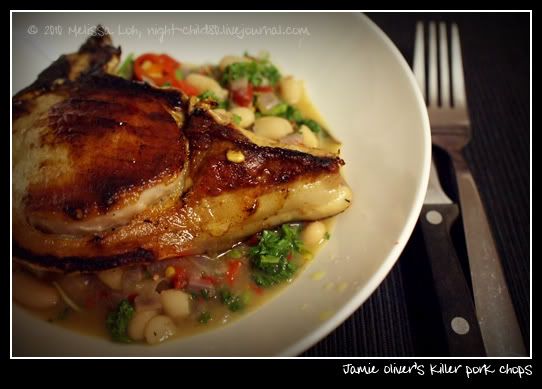 Channel Ten is currently airing '
Jamie Does
' and this week's episode was Andalucía in Southern Spain. The tapas lady Paprika was right - we eat with our eyes first and when Jamie introduced his Moorish pork chops, it looked so gorgeous and crazy simple, I had to cook it for our
QBE Riverfire Festival
dinner on our balcony.
Fireworks. A hot BBQ. Yummy pork chops. What more can you ask for?
A modified
recipe
by Jamie Oliver
INGREDIENTS
Leaves from a few sprigs of fresh oregano or marjoram

Sea salt and freshly ground black pepper

A small handful of raisins

Good quality port

Extra virgin olive oil

4 large, thick pork chops (approximately 350g each), bone in
DIRECTIONS
Pound the oregano leaves with a small pinch of salt and pepper in a pestle and mortar. Roughly chop the raisins, then add them to the pestle and mortar with a splash or two of port and extra virgin olive oil. Muddle everything together to make a paste, then put to one side for a minute.


Lay each pork chop, so the side with the fat is farthest away. Carefully insert a knife into the side nearest you and move it around to make a pocket inside. Use your fingers to fill each pocket with the raisin paste.


Get a barbecue or griddle pan really hot. Rub some olive oil and a good pinch of salt and pepper all over the pork chops. Put them on the very hot side of your barbecue and sear them for 2 to 3 minutes on each side to get some good colour going, then move them to the gentler side of the barbecue so they can cook slowly. If you're using a griddle pan, turn the heat down to medium low and cook for a further 10 minutes, turning occasionally. Serve warm on a bed of creamy beans or mashed potatoes.