The last time we went up north to Mooloolaba, we had bought tickets to dive with the sharks at Underwater World. And that was yonks ago when we were still in university. Unfamiliar with what's available, we walked down the boardwalk and randomly walked into an establishment that (a) didn't look too expensive, (b) wasn't blasting ridiculously loud music, and (c) had offered simple foods written out on their chalkboard A-frame. Turned out to be Karma Waters.
Karma Waters is much like the many beachside cafes along either coasts of Queensland - al fresco and indoor dining areas that allow punters to people-watch as much to be watched. Their decor has a touch of the Orient - a huge gold-leafed wood panel on a wall and a little Buddha on the cashier. Staff are quick on their feet (something I've learnt to appreciate after being a waitress for a year) and always ready with a smile.
The oysters (natural $16.50/27.50, portuguese $17.60/29.70 or kilpatric $18.70/$30.80) seem popular with the clientele, but we went with the lunch specials.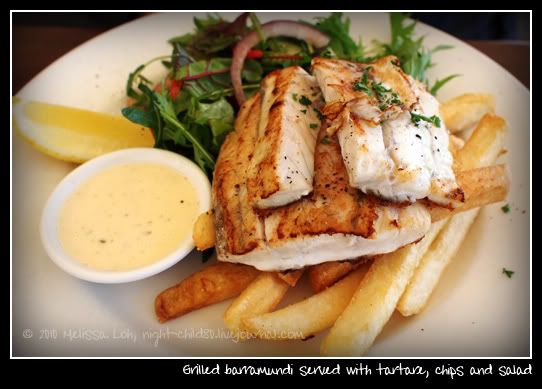 AUD 14.30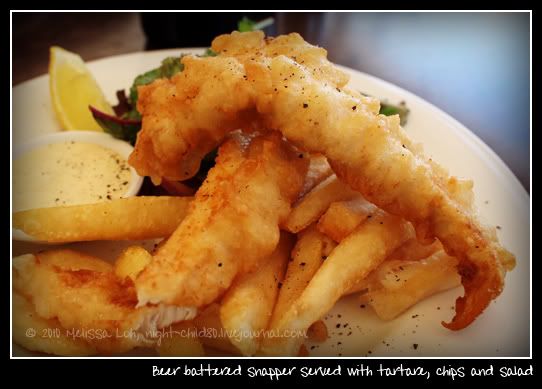 AUD 12.10
Gorgeous fish and I could taste the beer tang in the batter, which is a big thumbs up. Would've loved more, but that would've been too greedy of me. *grin*
Karma Waters
Shop 5 "Mantra" International Building
Cnr The Esplanade & Venning Street
Mooloolaba QLD 4557 - Sunshine Coast
Tel: +61 7 5452 6722
Fax: +61 7 5452 7562
Email:
info@karmawatersrestaurant.com.au