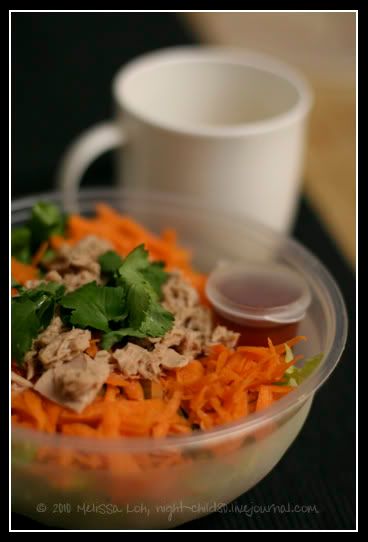 After making ricepaper rolls for dinner one night, I was left with far too much vermicelli and the SO had to spend a couple of days in Melbourne. So what's a girl to do with too much food?
Time to shake things up, or in this case, toss it up.
INGREDIENTS (SALAD):
Vermicelli, soaked in hot water until soft and drained

Lettuce, sliced (I prefer Romaine)

Carrot, grated

Fresh coriander, chopped

Tinned tuna, flaked and preferably in spring water (prawns, chicken, duck or sliced/minced pork will work too)

Chopped peanuts (optional)
INGREDIENTS (DRESSING):
1 tablespoon sweet chilli sauce

1 teaspoon fish sauce

1 tablespoon water
DIRECTIONS:
Toss all the salad components together in a bowl. If you're especially hungry, go heavy on the vermicielli and grated carrot.


Stir all the dressing ingredients together in a small bowl. Zap in a microwave if you prefer a touch of warmth and pour over the salad. Serve immediately.