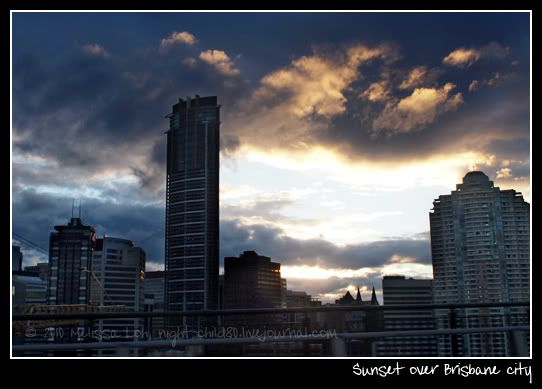 The sunsets here never get old.
There is nothing better than a hot slab of battered/crumbed/grilled fish and crispy-on-the-outside-fluffy-on-the-insi
de chips on a sunny day with the tang of the sea in the air.
Fish and chips might be a quintessential British meal, but Aussies have claimed this their own. It isn't difficult to walk down a street in any Australian city to find someone somewhere selling the piping hot stuff. That however does not mean it's all good. Far from it actually.
What makes for the perfect fish and chips?
Fresh firm fish flesh done the way you like it (I like mine crumbed, the SO grilled) straight out of the kitchen, so that when you break it apart with a fork, a wisp of toe-curling steam puffs up. Crunchy thick cut sticks of potato, fried in a good clean oil, dressed in a good sprinkle of salt and a pillowy soft inside. Just thinking about it sends delightful shivers down my spine.
So where's the best place for fish and chippies? My absolute favorite is Fish Lovers in Rosalie, but as good, fresh and generous as they are, they might be a little too expensive to have on a more regular basis.
But if you live on the Gold Coast, you are one lucky devil. Just behind the Palazzo Versace hotel on Seaworld Drive is
Peter's Fish Market
.
Contrary to their name, they're not really a fish market market. It's not the crazy hustle and bustle warehouse full of forklifts and men in thick plastic aprons. Peter's Fish Market does get a little crazy on the weekend lunch hour though and it's not surprising to see people walk out with a stack of paper trays full of fish and chips in their arms. Instead you have a clean organised space with several displays of seafood - fresh, packaged or pre-prepared - on thick beds of ice. This ranges from whole fish (some of the freshest I've seen), shucked oysters, prawns, octopus and fish fillets.
What I love is the wide variety of fish fillets you can select for your fish and chips, such as flake, whiting, cod, flathead, salmon. So you're not limited to the standard 1 piece of fish and chips. You can obviously go with as many pieces as you like in all 3 ways: battered, crumbed or grilled.
That said, there's nothing wrong with the AUD$8.50 for standard 1 piece of fish with chips, which includes a wedge of lemon to squeeze over the lot.
The only issue are the resident seagulls who are a permanent feature of the outdoor dining area and have no qualms about stealing your lunch when you're not looking. They obviously approve of the food as well.
Peter's Fish Market
120 Seaworld Drive
Main Beach, QLD 4217
Australia
Tel: +61 7 55 917 747
Opening times:
Monday - Saturday 9:00am - 7:30pm
Sunday 8:00am - 7:30pm