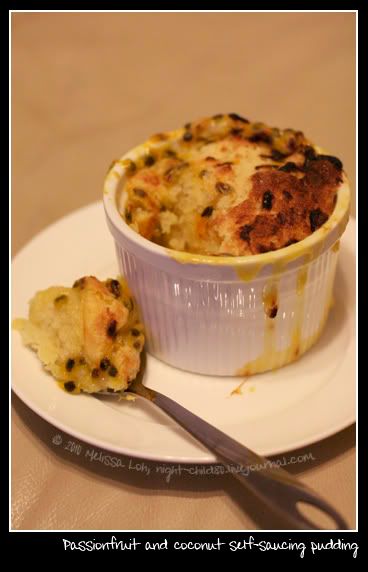 Passionfruit were
everywhere
at the Westend Markets, so I bought a motherload of them. What can I say? They were cheap enough and until I have a patch of land to call our very own, we won't have any of our own passionfruit vines to harvest for awhile. If you have pots and planters to donate though, I'm your girl! I have a billion seeds just waiting to be stuck into some moist potting mix and brought into the world.
But what do you do with so much passionfruit? Pour it into fruit salad for an extra tang or the classic pavlova. Or in my case, a serious baking spree of passionfruit cake, passionfruit icing and of course, passionfruit pudding.
Makes 6 servings.
INGREDIENTS (PUDDING):
1 cup self-raising flour

0.5 cup caster sugar

0.5 cup dessicated coconut

0.6 cup milk

1 egg

80gm butter, melted and cooled
INGREDIENTS (SAUCE):
0.5 cup milk

0.3 cup lemon juice

3 passionfruit's pulp

0.5 cup caster sugar

3 teaspoon cornflour
DIRECTIONS:
Preheat the oven at 180°C. Grease 6 ramekins in preparation.


Sift the flour in the bowl. Stir in the sugar and coconut, before whisking the milk, egg and butter until smooth. Spoon into the ramekins and smooth the tops.


For the sauce, boil the milk and lemon juice in a small saucepan. Remove from heat and stir in the passionfruit pulp.


Sprinkle the cornflour and sugar over the puddings, before pouring the liquid over the top.


Bake puddings for 50-55 mins or until a skewer/toothpick comes out clean when inserted. Serve warm.