How surprised would you be if I told you I try to watch every episode of
Australia's Masterchef 2010
, especially Friday's masterclass?
Not very surprised? Good.
Then you won't be surprised that I have been lusting over some of the recipes George, Gary and their guest chefs have been presenting every Friday.
Yesterday was especially special, with guest
Kylie Kwong
. The woman practically buzzes with energy and presents traditional Chinese cooking with modern ideas and techniques. She's the real deal, guys.
When she presented her
Stir-Fried Eggplant with Homemade Chilli Sauce
, I just had to give it a whirl. As much as I like eggplants, my attempts to cook it well have been utter failures and this was an opportunity to get it right.
So despite a crazy morning, we still scoured the West End markets for the ingredients and I got to work. It's all-in-all a relatively easy recipe, but be prepared to have your whole kitchen fill with gorgeous mouthwatering smells.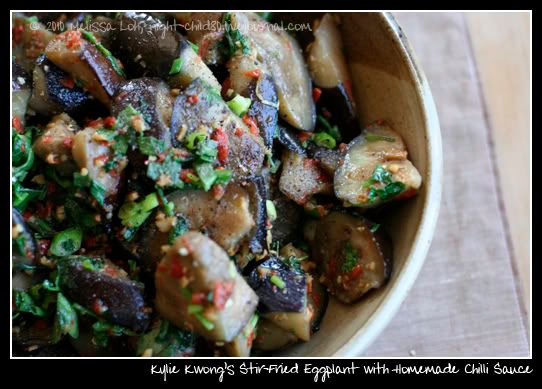 Only part I changed was the use of peanut oil (vegetable oil and a few drops of sesame oil) and the tamari soy sauce (regular soy sauce). It's not complicated and absolutely divine!