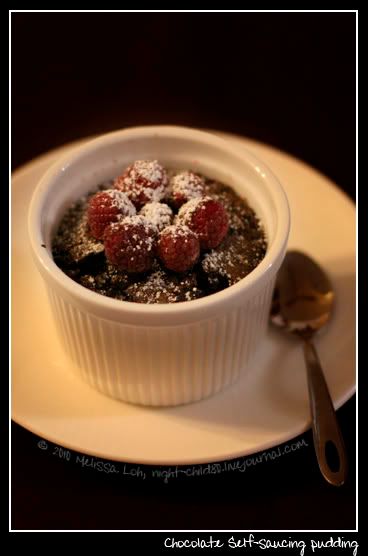 This is one of my favorite quick desserts - simple ingredients, not too complicated to put together and absolutely delicious. And with raspberries coming into season, I couldn't resist making this to accompany tonight's dinner of French onion soup and tiny chicken pies.
The SO calls it 'spoiling' him. *grin*
A recipe by Super Food Ideas' Winter Warmers
Makes 8 servings
INGREDIENTS (PUDDING):
1 cup self-raising flour

2 tablespoons cocoa powder

0.5 cup brown sugar

80gm butter, melted and cooled

0.5 cup milk

1 egg, lightly beaten

Fresh berries, icing sugar and/or thick cream to serve
INGREDIENTS (SAUCE):
3/4 cup brown sugar

2 tablespoons cocoa powder, shifted

1.25 cups boiling water
DIRECTIONS:
Preheat the oven at 180°C. Grease 8 ramekins.


Sift flour and cocoa into a large mixing bowl. Stir in the sugar. In a mug, combine the butter, milk and egg. Slowly add to the flour mixture, whisking until combined and smooth. Smooth into each ramekin, smoothing the tops.


Combine the sugar and cocoa powder for the sauce. Sprinkle over the pudding.


Pour boiling water over the back of a large metal spoon over the pudding. Place the ramekins on a baking tray to bake for 35-40 mins or until pudding bounces back when pressed gently in the centre.


Top each ramekin with fresh berries, dust a teaspoon of icing sugar over each ramekin and serve with cream.