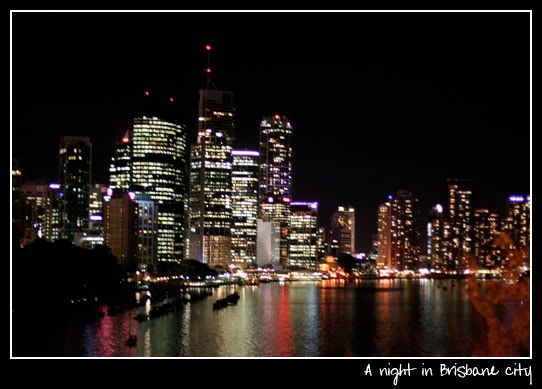 While I was so stoked when
purence
decided to come down to Brissie for a break, I wished it had been under better circumstances and that I could've taken off from work more time to show her around.
We've known each other for so long and through so much. We might not chat everyday nor be aware of the other's day-to-day, but we know and understand the overall craziness we live through. She's always been the first one who comforts me when my heart's broken or bitchslap some sense into me when I am throwing a tantie.
So offering her sanctuary to reflect and a change of scenery was the very least I could do. And I won't deny I am also selfishly pleased to have her all to myself for almost a week, a rarity since the SO and I moved to Australia.
I just hope I didn't scare the shit out of her on her virgin car ride with me from the airport (nor the country driving up Mt Tambourine and Natural Bridge by the SO). I hope the people she encountered wandering the city were kind to her, despite how shitty shopping is here. That she enjoyed the company of our friends at the birthday barbeque bash. And the walks along the Brisbane River soothed her soul.
Love you, babe. Come back anytime. *hugs*