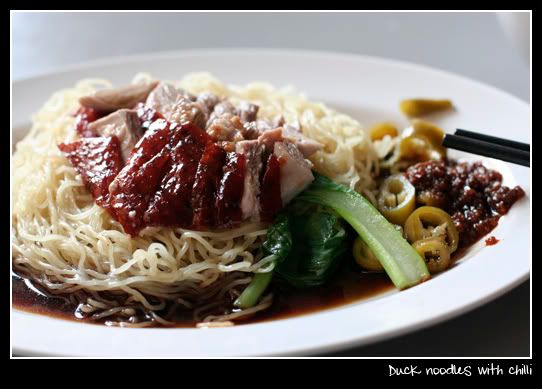 Why the hell would you have cornflakes or muesli for breakfast, when you can have duck?
So the day after arriving in Singapore, we had to hop on another plane to Jakarta.
Now I admit that I do not enjoy Jakarta very much. It's a noisy, smelly, smoggy, dirty, chaotic city that overwhelms all the senses, and seeing the level of poverty in such a resource rich country can be extremely depressing.
But they really know how to cook and eat. Everything tastes better, crisper, crunchier, spicier, fresher and more flavourful. And perhaps one of the best places to have some of the yummiest seafood is
Bandar Djakarta
.

The place is usually packed with large groups and families, with lots of space to move around from area to area. Though the same cannot be said about parking.
Upon arriving, it is usually best to have a member of your party head to the reception to be assigned a table. We had to wait in the waiting area a few minutes, while their army of wait staff located and coordinated the cleaning and preparation of an appropriately large enough table for each party, before announcing it over the PA system.
Next to the reception is the pasar ikan (fish market), where tanks and eskies full of water, ice and various seafood are displayed for patrons to gawk, poke and pick out for their dinner. Assistants are at the ready with plastic pails to hoist out the unfortunate creature(s) towards the weighing scales, where their ultimate fate is decided. Customers are offered a variety of ways to have their seafood cooked, before handing over their table ticket slips.
(
Collapse
)
Bandar Djakarta
Pintu Timur Impian Jaya Ancol Jakarta Utara
DKI Jakarta - Indonesia
PH 1: (021)6471-4528