While I haven't shared photos of the bentos I've made, packed lunches are still very much a staple in our household. Thankfully for the SO and I, our offices provide microwave ovens, so as long as the containers are microwave-safe, we have the option of hot food on demand. Handy with the weather chilling up into the winter months now.
Besides all the obvious benefits of bringing in your own lunch (cheaper, healthier, environmentally friendly practice, etc), there's a
huge
reason why I pack lunches.
I am extremely super duper lazy.
Tomorrow's lunch is tonight's leftovers. I usually cook larger batches anyway (and I hate to waste), packing leftovers into containers after dinner and into the fridge lets me sleep in that precious half hour before work. I don't have to fiddle with pots and pans first thing in the morning.
If that's not enough to convince you of how lazy I am, let me submit one more piece of evidence: I am too lazy to leave the workplace to find food. The severe lack of decent grub within a 200 metre radius of the place is a factor, but at lunch hour most days, you're more likely to find me chained to my desk, shovelling my heated bento into my face while typing an email and scanning a spreadsheet, than out somewhere chilling with a Subway sandwich in one hand.
Which is why I look forward to Tuesday lunches with
ainead
and
pect
. It forces me to get away from the computer screen and the demands of work for a few minutes.
I also take some pleasure in sitting amongst colleagues in the lunch room - them with their usual sandwiches, tins of tuna and salads - and I pull open the lid of my bento to release a whiff of steam and aromas that has them all curiously peering to see what I brought in that day.
So behold, tomorrow's lunch.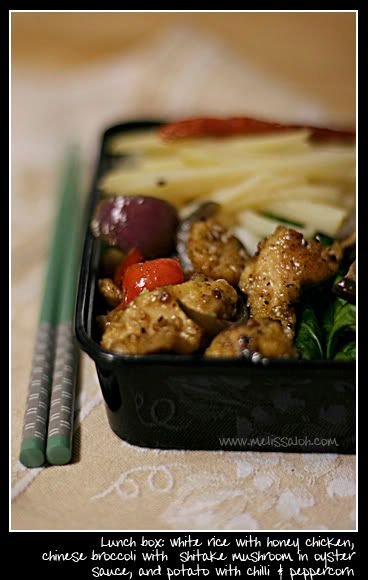 x-posted on
bentolunch