Dishes made from offal is a fairly common sight at an Asian table and driven by a strong desire not to waste any part of a slaughtered animal, experimenting with otherwise cast out parts is something I have always wanted to bring to our family table.
Nonetheless, uncooked tongue is an extremely confronting sight and sometimes still coated in the mucous of saliva, the texture can be cringe-worthy. But when cooked properly, this muscular organ achieves a silky delicious tenderness that is both versatile and rich.
Cow, calve, pork and even duck are eaten, and all are relatively cheap to purchase. All it takes is a little preparation and the boiling cooking method I've used is probably one of the easiest. Choose a cow tongue that is around 1kg, greyish pink in colour and firm with no strong odours.
(
Collapse
)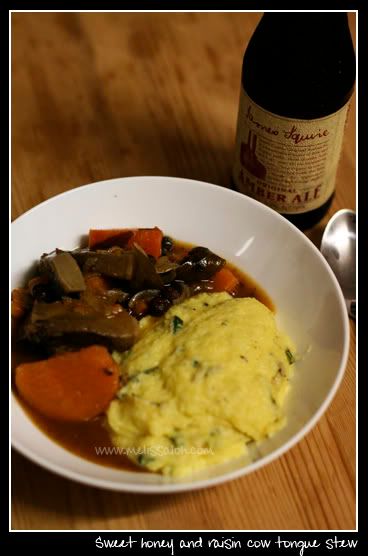 This sweet and spicy dish is adapted from
Leanne Kitchen's The Butcher
.
INGREDIENTS:
1 fresh cow tongue (found in the offal section of Woolworths)

1 onion, sliced

2 sprigs fresh curry leaves without the stalks

1 tsp coriander seeds

1 tsp black mustard seeds

1/2 tsp cayenne pepper

1/2 tsp cinnamon, ground

2 carrots, peeled and chopped in large chunks

1 sweet potato, peeled and chopped in large chunks

2 cups vegetable stock

1 cup raisins

1 tbsp honey

2 tsp cornflour with cold water (for thickening)
DIRECTIONS:
In a large enough pot, heat some oil before throwing in the curry leaves, coriander and mustard seeds. Fry until fragrant. Add the onions and stir until softened and just starting to brown.


Add the prepared tongue, carrot and sweet potato, and pour in the stock with the cayenne pepper and cinnamon. Stir as you bring it to a boil, before lowering the heat and covering the pot to allow it to simmer. Since the tongue is already cooked, you only need to simmer for as long as needed for you to be able to sink a fork/skewer into the root vegetables with ease.


Add the raisins and the honey to simmer for 10 minutes, allowing the raisins to soak up the sauce and flavours. Stir in the cornflour and water until the sauce has thickened. Serve warm with cous cous or creamy polenta.
The recipe for the creamy polenta next!