Whenever we're back in Singapore, one of the must-does is to hop into the car and take a drive across the border to Malaysia to have seafood. And one of the staples to the table is Nestum prawns or crayfish.
Nestum cereal
is a well-established Nestle product, made from wheat. Its recommended serving is to add a few tablespoons of these malt-coloured flakes (think aquarium fish food flakes) to hot milk or other liquids.
However after 50 years on the market, Singaporeans and Malaysians now enjoy a much more satisfying way to have this nutritious cereal - Nestum prawns/crayfish.
This dish is crunchy, slightly sweet and very fragrant - and one of the SO's favorite. So how could I possibly say no to cooking this for him, when we saw some fresh bunches of richy aromatic curry leaves at the markets this morning, and the SO was willing to brave the Chinese New Year crowds to visit Chinatown to hunt down a tin of Nestum?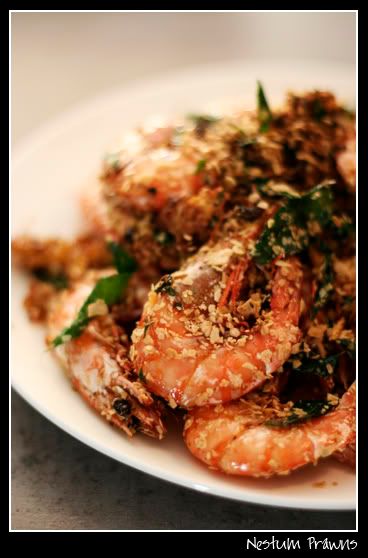 INGREDIENTS:
500gm fresh prawns, with shells on, washed and drained

Oil for deep fying

3 tbsp butter/margarine

3 egg yolk, beaten lightly

1 tbsp chopped garlic

1/2 tbsp chicken stock or bonito granules

1/2 tsp sugar

2 sprigs fresh curry leaves

As much chilli padi as you want (finely sliced)

Salt and pepper to taste

5 tbsp Nestum
DIRECTIONS:
Heat up oil, add prawns and deep-fry for 1 min (or 1 min longer if you like extra crispy prawns, which you can eat with shells on). Scoop out and drain on paper towels.


Leavel 1/2 cup of oil wok and melt the butter. Wait till the oil and butter are really hot before pouring in the beaten egg yolks. Fry till fragrant. Don't be too concerned if the mixture is foamy.


Add the garlic, granules, sugar and chilli continue to fry till fragrant. Toss in the curry leaves and fry for a minute to release the fragrance before adding the prawns. Fry till aromatic.


Finally add the Nestum and continuing frying till dry. Dish up and serve hot with freshly cooked rice.