As promised to
lucentstreak
, who I served this to for dinner when last she visited, I'm sharing one of my favorite I'm-too-lazy-to-cook-dinner recipes. And it's cheap too. (^_^)
For those unfamiliar with beef cheeks, they are the facial cheek muscle of a cow. It's a very tough and lean cut of meat and is most often used for braising or slow cooking to produce a tender result. You may need to order them ahead from your butcher, but we've found them in the offal section of Woolworths (400gms costs about AUD$4). If beef cheeks aren't available, beef brisket of the same weight make a good substitute.
I usually throw everything together in the slow cooker either just before going to bed or first thing in the morning before heading to work. When I get home, dinner's ready and I wouldn't need to chopped or cooked a thing. If making the night before, just switch off the cooker in the morning and simply reheat in the microwave to serve.
That said, all this can still be cooked in a stew pot, but to get the same result, bring to a boil and simmer for 5-6 hours.
This is a dish that should never be rushed.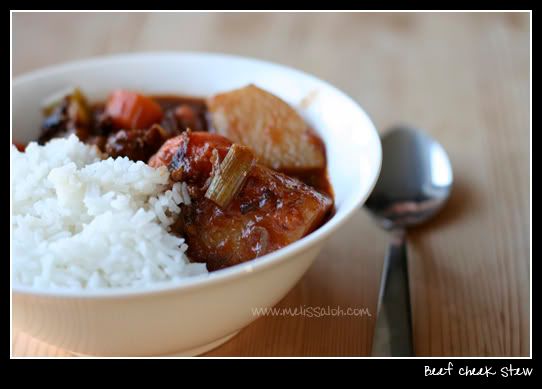 Beef cheek stew (modified from Ultimate Slow Cooker by Sara Lewis)
Serves 6
INGREDIENTS
800gms beef cheeks

2 large onions, sliced

2 tablespoons olive oil

500ml of ale or stout or wine

4 teaspoons wholegrain mustard

3 teaspoons brown sugar

2 tablespoons tomato purée

450ml beef stock, hot

425gm celery, roughed chopped

625gm potatoes, peeled and sliced

25gm butter, melted

salt and pepper to taste

3 tablespoons plain flour
DIRECTIONS
Preheat the slow cooker if necessary.
Heat 1 tablespoon of the oil in a large frying pan and brown the beef cheeks all around. If you can get it hot enough for any fat on the cheeks to brown down to crispiness, do so. Remove the beef from the pan and into the slow cooker. Do this in batches if your frying pan isn't large enough to fit all the beef cheeks.


Heat the remaining oil in the pan and brown the onions. Stir in the flour, then add the beer, mustard, sugar and tomato purée. Bring to the boil, stirring then transfer to the slow cooker over the beef. Stir in the hot stock.


Arrange the celery on top of the beef and cover the lot with the sliced potatoes. Brush with melted butter, then cover the cooker with the lid and cook on high for 5-6 hours. Season to taste and serve with crusty bread.
If you prefer to use wine rather than stout/ale, try doing a tomato base version. Substitute half the beef stock with a can of diced tomatoes (fresh diced tomatoes if you have the time).
Any leftovers can be made into pies with a flaky pastry. I'll share that recipe soon.
In the meantime... *slurp...munch munch*