It's the last full day in Melbourne, so I took it easy and visited the nearby
St Paul's Cathedral
. It is massive and imposing, quite different from the warm yellow light at
St Patrick's Cathedral
.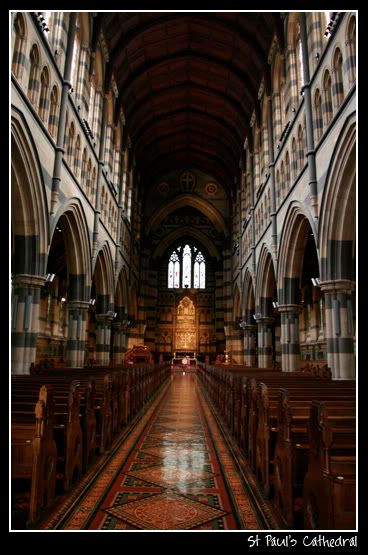 (
Collapse
)
I finally got to try some chips from
Lord of the Fries
on Flinder's Street train station.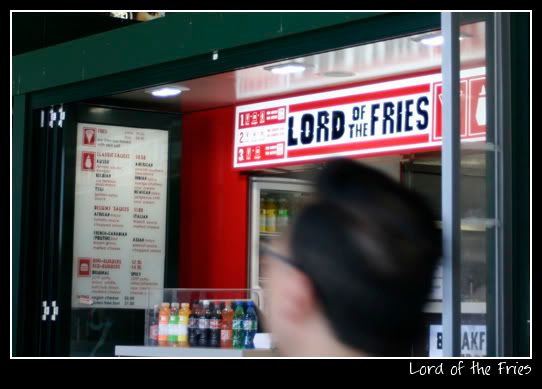 The chips are yummy! I got the last bits from a batch, so my chips were a little extra salty (sea salt, no less) and they were dressed in my choosen sauce: Mexican with sour cream. So much yum! I ended up sitting in Federation Square, munching away on them before going into the
Australian Centre for Moving Image (ACMI)
to view the
Game On
exhibition.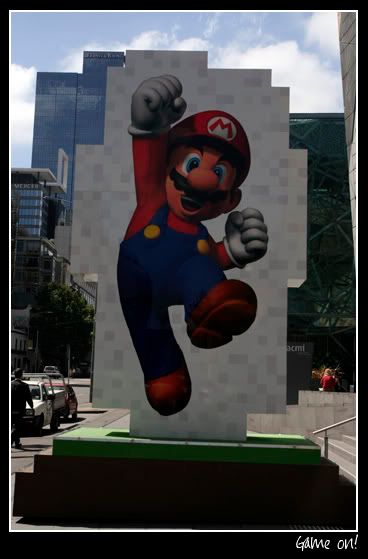 The exhibition showcases video games across the decades to its present-day industry. They had several old arcade games set up, like
Pong
,
Centipede
,
Space Invaders
,
Dig Dug
, etc. Most of these were played by grown men in their office wear and damn! They were good!
There was a whole section dedicated to Pokemon (Mario got a cursory mention), from the plushies, the arcade game to the Gameboy Advance/Colour/blah blah blah. Most of these were from private collections too. I spent most of my time watching people play DDR and the Wii. Hilariously funny!
All these games were free to play.
Then it was time to meet
bankevair
!!!
She messaged me to say she had missed the bus, so would be late to our meeting point on the corner of Swanston Street and Collins Street.
When we did meet, her question "What do you wanna eat?" stumped me. Thus far, Melbourne had for the most part, been a culinary wonderland. I had no desire to actively pursue certain flavours and was quite content with seeing what roaming its streets would throw up.
So
bankevair
walked us down to Kimurakan on Little Bourke Street. Its dodgy exterior hides a true little gem!
(
Collapse
)
We chatted for ages in that little Japanese restaurant before going on a walk. The first stop was Gin Palace (Little Collins Street). It's hidden down an alley and the only sign of its existence is a little round lit signage high on the wall.
Pushing the front door, you'd never expect to be greeted by a deep red and grey lush interior. I stood there drinking in the sight and the first impression I got was - host club. The seats were deep and plush, obviously velvet and while it didn't look busy, the people inside were collected in little groups all over the place.
Since it looked a little too posh, we took another walk to check out
Manchester Lane
(Flinders Lane).
bankevair
was very adamant that this pub had some of the best live music and that might've been true, had we been willing to pay the AUD$10 cover (no drinks included).
So we pushed on to Café Greco at the Crown Plaza for dessert instead.
That place is a dessert heaven! The display case was literally chock-a-block full of tasty confections. Chocolate and strawberry covered cakes, creamy meringues, trays of cheesecakes glistening with a variety of flavours, jars full of pretty biscuits and cookies...
(
Collapse
)
And all the while as we chatted about anything and everything, we had a Crown tower ahead of us. At every hour, a row of towers in front of the Crown along the Yarra River would 'breathe' fire. It is easy to tell when the show is about to start, as the hiss of the gas collecting is loud.
Then with a burst, each tower begins its nightly performance of fire pulsation - light and heat that stings the eyes and warms the cheek.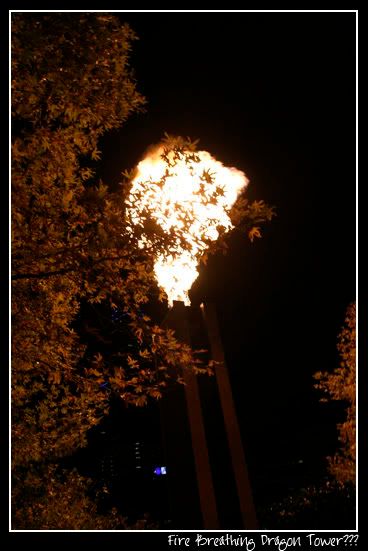 bankevair
is still waiting for a roast pigeon or seagull... (^_^;)