When I placed my 2nd Gmarket Global order, I didn't really pay too much attention to the weight of the resulting parcel.

So when it came time to pick up it up from the post office, I bulked slightly at the 8.5kg figure.

Naw, it'll be alright, I thought. I can still pick it up on the way into work and take it in with me. No problem!

Nup.

The resulting box became up to my knee and I had to lug it back home. My arms were so sore, but this means I get to do a multi-post reveal!

First up are the items from
ainead's part of the order.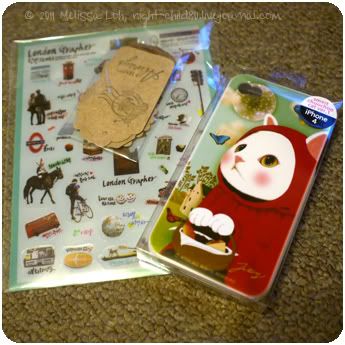 ainead is a huge Jetroy fan. She found a seller 하루디자인문구 and wanted the Redhood Jetroy iPhone 4 case. It is so cute! And the seller threw in a sticker set and cork bookmark as freebies.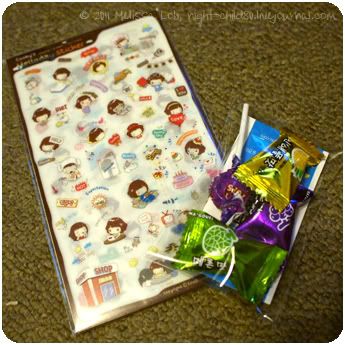 These Cook's Helloday stickers are from seller (주)올인마켓. The set comes with about 10 sheets of stickers, each one different from the next. And they included freebie candy!

Tempted yet? If you haven't already, check out my Gmarket Global tutorial.

Stay tuned for the rest of the haul! (^_~)-★