Here on the southern hemisphere, as the rest of the world begins warming up, we are looking forward to the cooler autumn and winter months. While the temperature drops and the tank tops and flip-flops make way for cardigans and boots, our kitchen undergoes a shift as much as my wardrobe does.

The essentials stay the same, but the pot, casserol dish and slow cooker get more benchtime. Piping hot stews, soups and heartier dishes find their way onto our table, as our bodies crave the comforting warmth of liquids and carbohydrates. Not the most ideal combination for keeping the winter fat off the bones, is it?

This stew is rather versatile and I would usually pour in a stubby of ale, cider or stout (375ml) for the liquid, but I didn't have any and substituted it with sherry instead.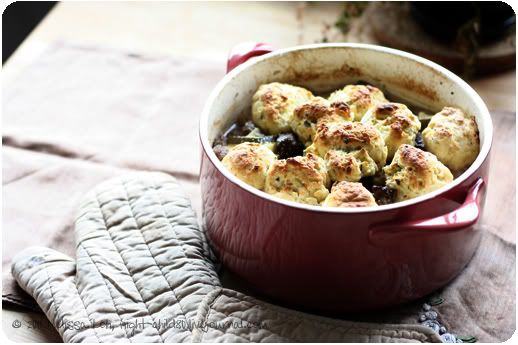 INGREDIENTS (STEW)
500gm beef chunks

2 onion, sliced

1 zucchinni, chunks

1 turnip, chunks

2 potatoes, chunks

3 cups stock (or water)

1/2 cup sherry

1 tbsp wholegrain mustard

1 tbsp cornflour, mixed with a little cold water

1 sprig rosemary

Salt and pepper to taste
INGREDIENTS (DUMPLINGS)
1 1/3 cups plain flour

1 handful fresh oregano and thyme, chopped

1 tbsp sugar

1 1/2 tsp baking powder

1/4 tsp salt

1/2 cup cream

1/2 milk
DIRECTIONS
Brown the beef in a pan over medium-high heat. If your pan isn't large enough, brown the meat in batches. Transfer to a casserole dish.


Brown the onions in the same pan. Pour in the stock, sherry and wholegrain mustard, and bring to a simmer, scraping up the browned bits on the bottom of the pan. Pour liquid into the casserole dish with the beef and the rosemary sprig, cover and put into a 160°C oven for 2 hours.


Add and stir through the vegetables and cornflour liquid to the casserole dish, cover and cook for 20 minutes. Meanwhile, make the dumpling dough: in a medium bowl, stir together all the dumpling ingredients and stir just until the dough comes together.


Remove the pot from the oven. Drop the tablespoons of dumpling batter on top of the simmering stew, cover and cook for 20 minutes, until the biscuits are cooked through. To test, stick a toothpick into a dumpling and it should come out clean.


To finish, put the pot under the broiler for a few minutes to allow them to brown. Serves 6.