Apparently I have been whinging a weeeeee bit too much about whisking/mixing by hand and oogling a little too hard in the department stores' homeware sections. However we wouldn't be able to afford the KitchenAid stand mixer (and therefore none of the awesome attachments).

So while we were in David Jones and Myer, the SO dragged me to have a closer look at the mixers available. There were so many options that boggle the mind, but it's really the shininess that's so distracting.

After an hour or so of um-ing and err-ing, we finally came home with our very own stand mixer!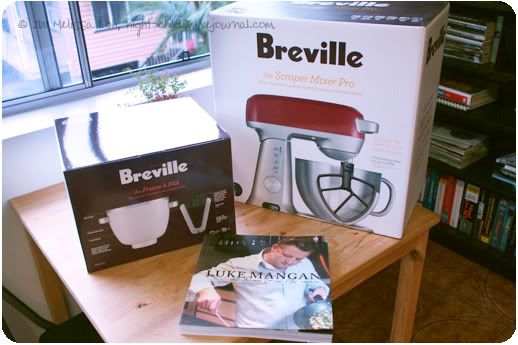 It's the Breville Wizz Planetary Mixer in red! Its RRP $549.95, but we got it for $444 after the Myer every-$75-get-$14-off (a total discount of $105).

And in typical infomercial style, THERE'S MORE!!!

That includes a Freeze and Mix kit (RRP $99.95) to make ice-cream/gelato and a copy of Luke Mangan at home and in the mood (USD$25.55).

How could we say no?

And the first thing I made with the mixer: a marbled sponge cake. I followed the recipe that came with the mixer and while the resulting cake was more like wet sand (definitely not my best cake attempt), I'm still thrilled I never have to whinge about mixing dough ever again.