Despite the rave reviews from other bloggers, I have been intimidated by the general lack of English on Gmarket Global (and the sellers) to use the shopping platform. But after moving to Australia, I've discovered a shortage of coordinated group orders for Brisbane - a flourishing community and movement back in Singapore that maximises international shipping costs and bulk discounts.

So with the encouragement of friends, I decided to suck it up and have a go at shopping on Gmarket Global portal.

It took me a week of trawling through the hundreds of Gmarket sellers to decide what I wanted, cuz there is just so much choice! But as a first order, I tried to keep it to basics that I will need for the chillier weather we'll be expecting on the southern hemisphere. So here's what my order included: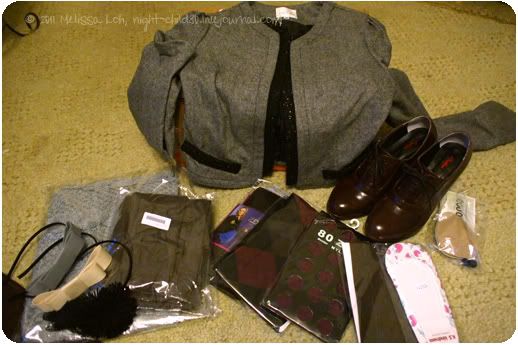 Unfortunately my order isn't perfect. The arygle stockings I ordered were green, but the supplier (undress) sent black and red. Not a big deal since it would match my wardrobe, but I had ordered the green to switch things up a bit. Also the sparkle stockings are a little tight, so be weary of the dreaded 'free size'.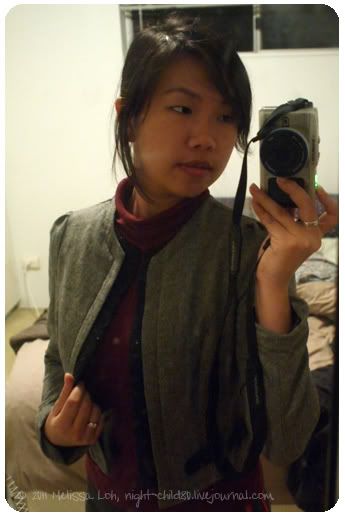 What made me happiest is this jacket from 시크라인 (29800 KW or AUD$26.02) and the shoes from 프리토 (32900 KW or AUD$28.73). They were the most expensive items in the order and the most likely to disappoint due to sizing issues. Yet they are perfect! I can button the jacket front without my chest looking like it's about to explode and I've walked all day in those shoes without a blister.

Overall, I'm stoked by the items. The quality of everything is really decent. There is a bit of guesswork involved in working out what measurements relate to which part of the body in Korean, so I am thrilled it's all worked out.

Shipping has also been a breeze. Everyone swears by EMS and it is worth every penny. Here's this order's timeline for anyone curious about how long it takes to ship from Korea to Australia.

Order Timeline

25 Feb 2011 (21:21) Confirmed and ordered via GMarket Korea English portal

26 Feb 2011 Items started shipping domestically

2 Mar 2011 (16:30) All items shipped and received by the GMarket Korea warehouse

3 Mar 2011 (16:30) Order shipped to Australia

4 Mar 2011 (06:32) Departure from INTERNATIONAL POST OFFICE

4 Mar 2011 (17:17) Handed over to Air carrier (INCHEON)

4 Mar 2011 (17:47) Received by Air carrier (INCHEON)

4 Mar 2011 (19:10) Departure from Airport (INCHEON)

5 Mar 2011 (07:01) Arrival at Destination Airport (SYDNEY)

5 Mar 2011 (08:11) Delivered to Destination Airport (SYDNEY)

6 Mar 2011 (10:09) Arrival at inward office of exchange (BRISBANE)

6 Mar 2011 (10:09) Handed over to Customs and awaiting clearance for delivery

6 Mar 2011 (17:32) Departure from inward office of exchange

7 Mar 2011 (05:18) Processed at facility

7 Mar 2011 (05:51) Transferred to local post shop

7 Mar 2011 (08:07) Final delivery and pick up


If there's interest, I'll put up a tutorial on how to shop internationally on GMarket (or at least how I did it).

In the meantime, time to do more Gmarket shopping!