The SO and I had a late night event on FoodConnect box collection day, but nonetheless the SO organised to pick it up immediately before heading to our event.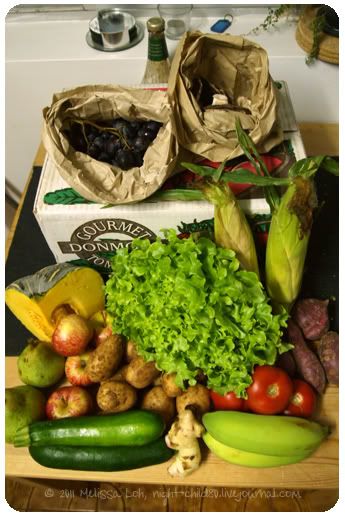 Ginger x 1

Corn x 2

Potatoes x 8

Lettuce x 1

Mushrooms x 5

Tomatoes x 4

Pumpkin x a quarter

Sweet potatoes x 4

Zucchini x 2

Apples x 5

Bananas x 2

Pears x 2

Grapes – Black Muscat x 1



Check out how huge that lettuce is! We've been eating it the last 2 days with roast chicken and it is so yum! I'm not sure if we can finish the sweet potatoes, as we have been accummulating them. They're not our fondest vegetable and I don't do roasts often. Anyone with any ideas what to make with them?