Every now and then, I trawl Youtube for tutorial videos and check out what's new and hot (or train-wreck disgusting, cuz I'm morbid that way) in the world of web videos. And it's no surprise that the tutorial videos I gravitate towards are either about cooking or make-up.

And I'm not the only one! While shopping at the Brisbane MAC counter for a tube of Russian Red lipstick, the countergirl and I got talking about awesome make-up artists, and thus discovered our mutual love for petrilude, Youtube makeup artiste extraordinaire. The man is a creative genius and his videos are always full of great information.

Somewhere along the way, I learnt you can press loose pigments into those tin pans eyeshadows usually come in. It looks dead simple (but potentially extremely messy), but to do it, you need those eyeshadow pans and preferably a case to put them in afterwards. This totally rocked my world, as my collection of TheSheSpace/About Face (now defunc) mineral pigments has really grown. It is becoming harder and harder for me to find anything in my eye makeup drawer anymore, and everytime I want to use them, it looks like an explosion of glitter and colour over my desk, so pressing pigments into pans sounded like a very good idea.

One of the most recommended sites to purchase these eyeshadow pans is Stars Makeup Haven. I ordered a bag of 15 empty 26mm eyeshadow pans and a magnetized empty 12 pan eyeshadow palette (with an additional 12 pans), so I wouldn't have to purchase the magnets with adhesive.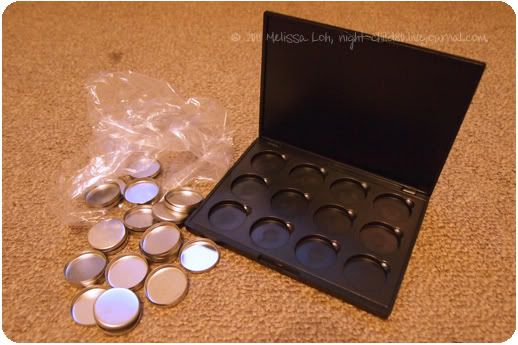 The package arrived in a 23cm x 17.5cm padded plastic envelope, so everything was nice and secure. The pans were wrapped loosely in an unsealed plastic bag, but the palette was sealed in snug sealed plastic.

And there was a surprise in the envelope! Stars Makeup Haven also threw in two of their eyeshadows: Flaming-o & Steel Away pigments. They're also in the standard 26mm pans and I haven't tried them yet, but there's a review with swatches of their eyeshadows here.

With everything I needed to press my eyeshadows, I did a small test run with a half glycerine, half alcohol solution with some pigments I wouldn't mind spoiling.





Success! One full 5gm jar has enough product is almost to the top of a 26mm eyeshadow pan, if you're not too messy and lose too much product.

And the fabric I used left a lovely hatch mark across the eyeshadow, so perhaps for the next couple of pigments, a little crafting to create my own eyeshadow emblem might be in order.

I also might bake the finished pans for awhile to really get them dry before using, though apparently leaving them for 24 hours apparently works just as well... if you haven't gotten them too wet in the first place.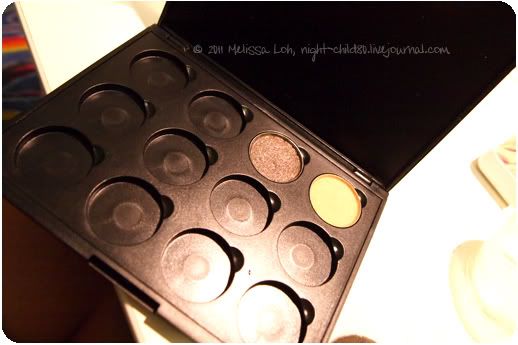 The palette magnets are pretty strong and I have shaken it a little upside with the filled eyeshadow pans in them. Nothing fell out, and the plastic tray's pan moulds as a little cut-out dip on each corner, making it easier for removing and switching pans.

The downside is that while I ordered on 26 January 2011, they didn't ship till 4 February 2011 and only arrived 21 February 2011. Most post from the US takes 11-15 days to arrive, so this took a little longer than I expected.