As we drove down Brunswick Street, the SO went: "Let's have burgers for lunch at Pintxo."

I like their tapas, but burgers at a taperia? Erm, ok?

What I failed to realise is Pintxo is running a weekend lunch special: $15 gets you a burger, 2 croquettes and a beer or a glass of sangria. Pretty awesome deal, eh?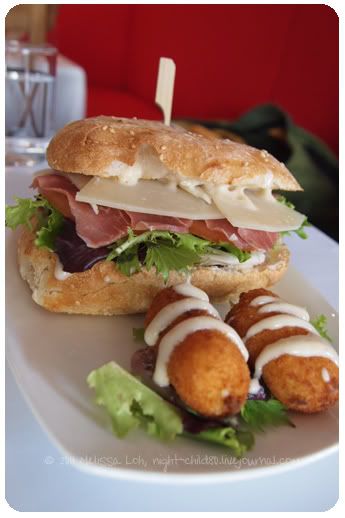 Beef and pancetta bocadillo (usually $13 by itself)



The thing is they're not really a burger. They're bocadillos, and the ones Pintxo served up doesn't really come in the traditional baguette. It came in something a lot better: a square pillow wrapped in slightly crunchy toasted goodness.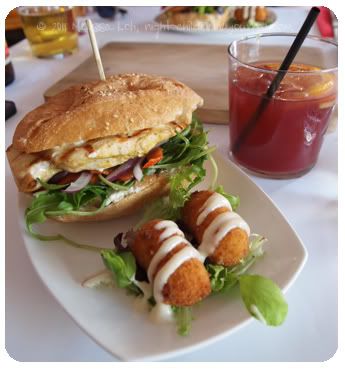 Chicken and blue cheese (usually $13 by itself)



I opted for the chicken and blue cheese, because I'm such a sucker for the cheesy stuff. Blue cheese can be a bit of an aquired taste and the SO usually avoids it as most establishments tend to overwhlem a dish with the stuff, but even he found the flavour just right with my burger.

And the croquettes! OMG, so creamy in the centre! Potato gems have nothing on those babies and I'd be happy to eat a bucket of them in a seating.

The SO went with a beer from their selection, while I had a choice of red or white sangria. Sangria on a hot summer afternoon, oh yah.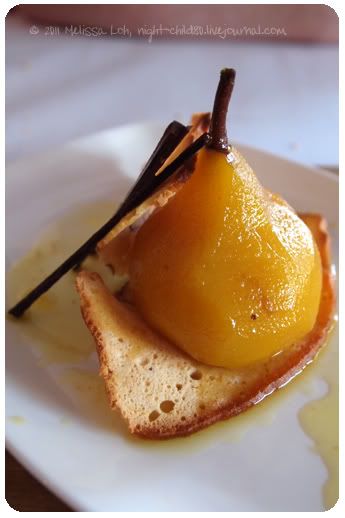 Honey and saffron poached pear



While the meal is perfectly portioned, we decided to be greedy and shared a dessert between us. It was thankfully not overly sweet and a spine-shiver delight to finish off a casual lunch. Yummeh!