On the final night of the conference leg in Melbourne, I was offered the opportunity to join the speakers' dinner at the Butcher's Grill in Melbourne's Docklands.

It was amazing! After dreary days of rain and sad weather, the heavens decided to grace us with a gorgeous sunset overlooking the water - the perfect setting to the end of a successful conference in Melbourne.

Butchers Grill features a Mediterranean style menu with prominence for grilled Australian meat. If there's something to be said about Butchers Grill Meat at its Docklands location, they have amazing real estate and would be well-worth a visit for romancing.

However, I would've preferred our food to have arrived hotter. The conference organisers had booked out the restaurant, so understandably the kitchen might've been overwhelmed with trying to serve everyone at once.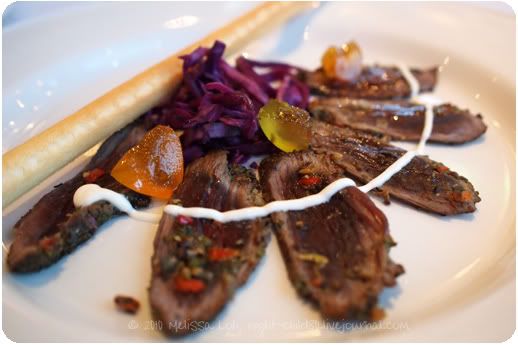 Seared pepper crusted kangaroo with mustard fruits & cabbage salad AUD$17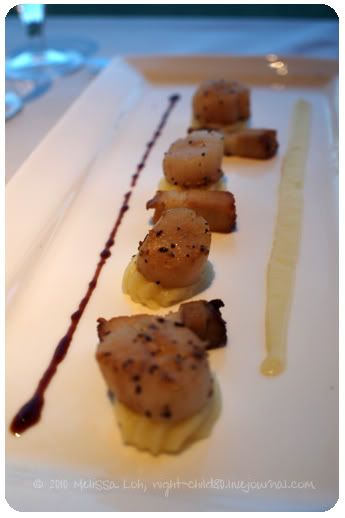 Seared scallops, potato puree and sticky pork AUD$18

I exchanged a piece of my kangaroo
for a tiny sliver of the sticky pork with one of my dining companions.
And was left disappointed.
The pork was dry and lacked the burst of flavour
one would expect from a well-marinated piece of pork.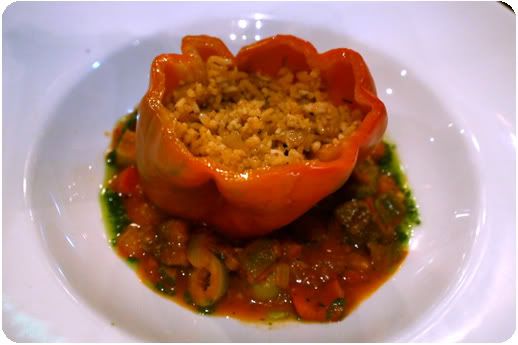 Classic stuffed capsicum (vegetarian version) AUD$29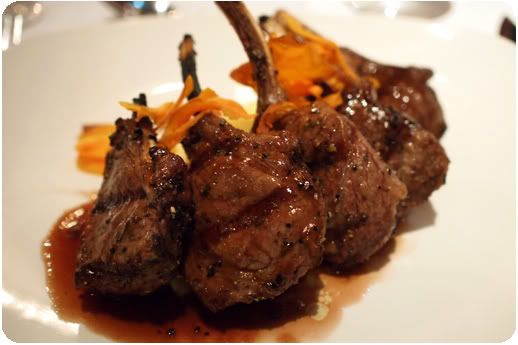 Lamb cutlet served with garlic mash and red wine glaze AUD$36

I opted for the lamb and loved every morsel!
The garlic mash was especially creamy and well-seasoned.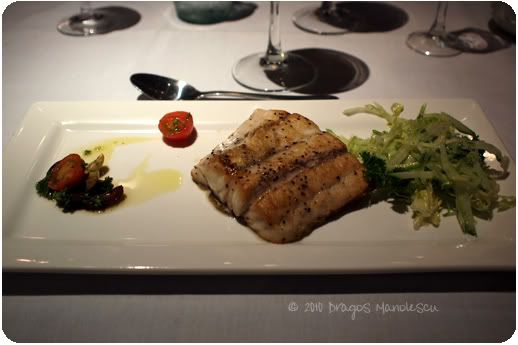 Barramundi

This dish had differing reviews from our table mates.
One thought it lacked flavour, but admited he preferred more robust flavours.
The other enjoyed it.

Mango jelly panna cotta served with grapes and almond tuille AUD$13

Again, one of our dining companions thought it wasn't impressive.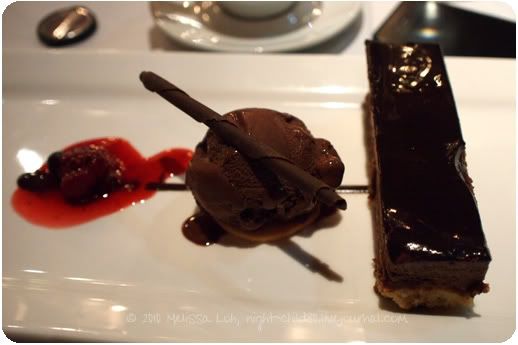 Rich chocolate ganache served with chocolate ice cream AUD$15

This baby is rich and I ordinarily wouldn't recommend eating
the whole chocolate ganache on your own.
But I did and didn't regret it.
The chocolate ice-cream is dark and
the bitterness helps curb the richness from overwhelming the stomach.




Butchers Grill Meat & Wine Room
Docklands
439 Docklands Drive Pavilion 1
Docklands, VIC 3008
Australia
Tel: +61 (03) 9640 0696