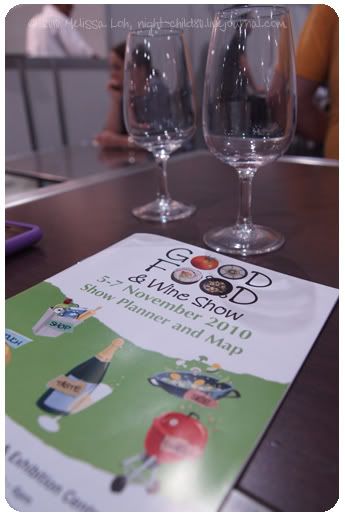 bankevair was originally planning to head to our side of the coast to attend the Good Food and Wine Show, as she'd missed the Melbourne leg earlier in the year. When plans fell through, I asked around the office and found some friends to come along for a day of crazy gastronomy.



After a morning catching up with the girls, we strolled into the Brisbane Convention Centre and holy camoli!




The place is chockers full of wine. If you sampled 1 wine from each stall (and most had at least 6 to choose from), your liver would hand in its resignation and report the cops on you for abuse.

We each picked up a wine glass for $3 (without the wine holder that allows you to hang it around your neck, thank you very much). With it, all you needed to do was hold it out and ask politely if you could sample just about anything - merlot, pinot grigio, cabarnet sauvignon, chardonnay, riesling, sauvignon blanc, shiraz, pinot noir, champagne, liquers, sake... you think it, it was probably there.

I probably had about 3-4 full glasses of wine samples, but one of the most delightful beverages was Fresita's strawberry and white peach Chilean sparkling wines.

The demonstrator would hold each bottle to the light to show the crushed strawberry bits as evidence that real strawberries were used to impart the rich sweet natural flavour. These are so girly and I'd imagine would be great fun serving up as cocktails.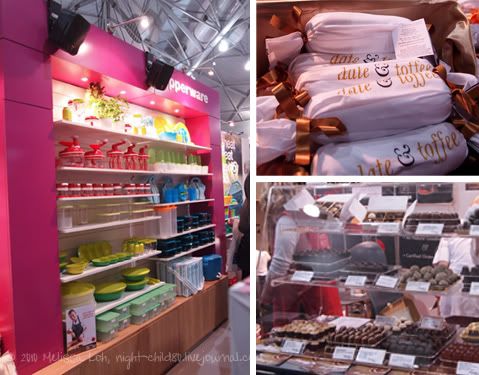 There was slim pickings in the kitchenware selection: aprons, Maxwell & Williams dinnerware, Riedel Decanters - and of course, Tupperware.

There was the Rice Cube mould though, which I giggled at since everyone thought it was the bees knees - yet the Japanese have been moulding rice into onigiri for generations.

Oh, and there was the Zesti Woodfired Ovens. I want one of those sexy beasts in our future backyard, so I can add that slight char to breads and pizzas.

What I had hoped would be the best bit turned out to be a bit of a let-down: the celebrity theatre. We chose to watch the 1pm Gary Mehigan and George Calombaris demonstration - which well over a thousand people choose the same.

The pre-host was also rude - after calling 3 contestants to the stage to try to win a car, he instructed them to put on their blindfolds. Then asked if they could see. When they answered 'no', he would wave his hand in front of their face, then smacked them on the forehead between the brows. It looked pretty hard too.

And as if that wasn't enough, the contestants were told to bend over to lick a plate in front of them. He climbed and stood on the table to step over each head to push their faces further into the plates. And he certainly wasn't gentle in this instance.

Otherwise, Gary and George were absolutely lovely. Just wish they weren't so far away.






So what did I get? Not a heck of a lot. With that much alcohol and sore feet, I filled our shopping bag with brochures and location lists for stuff I knew would be available in Brisbane.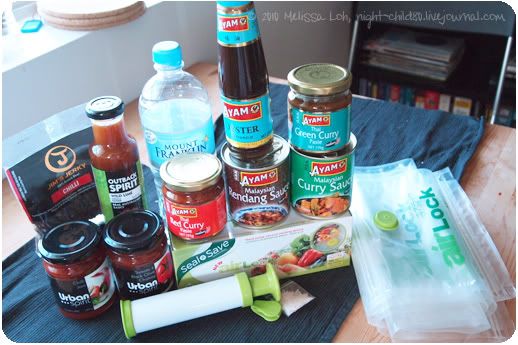 $10 showbag from Ayam - Oyster sauce, Rendang sauce, Thai Red curry, Thai Green curry and Malaysian curry sauce

$10 Jim's Jerky in chilli (for the SO)

$10 Outback Spirit Wild Lime Chilli Ginger sauce, Tomato & Olive Chutney, and chilli jam

$80 Air lock vacuum zipper bag sets