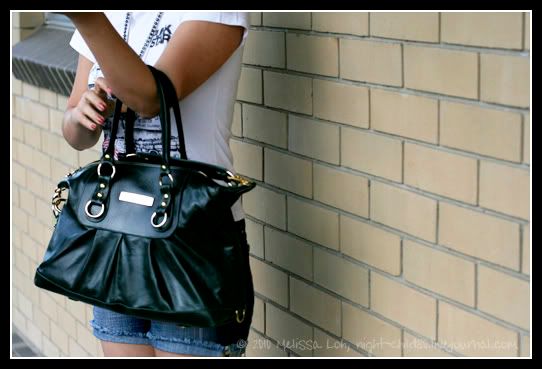 I'm not much of a bag freak. As much as I lust and drool over them, the bags I purchase tend to be none too flashy and horribly utilitarian. In fact, the oldest bag I've got is my ridiculously large Crumpler Heegoer. Not that it's a bad bag, but it's hardly something I want to lug into the office on a daily basis or take down to the pub after work.

I've been trawling to scale up from the crappy faux leather bags I've killed over my working life and stumbled upon Paulina Carcach.

After much consultations with
sparklybits girlfriends, I made a custom order for her calfskin leather shoulder and satchel Alexa bag via the Paulina Carcach etsy shop.

The item listing advised it would take 2.5 weeks to complete, not including shipping time (which usually takes about 11-13 working days between the US and Australia). I ordered 23 July, finalised some requests on 26 July and received it 23 Aug. So I was comfortable with the delivery time.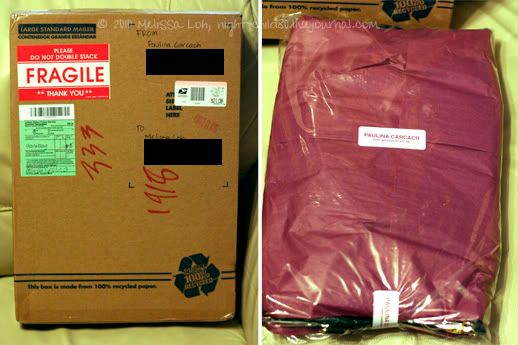 The bag came really nicely packed in its own box, wrapped in tissue. No dents, no slashes from security checks - all good!

And the smell of leather hits like a punch! It has taken 2 weeks of constant use for it wear off to a more subtle whiff.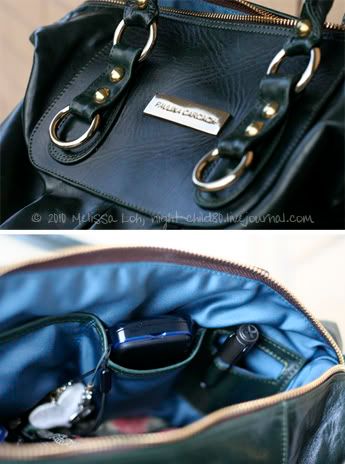 I had a choice between 31 colours and went with the deep evergreen (colour 10). It's pretty accurate to the advertised image and the leather is lovely - soft and smooth to the touch.

In my order, I made 2 additional requests:

That the interior lining be red or black.

For an additional pen pocket next to the cellphone and patch pocket for my fountain pens


Paulina confirmed she could do both, so I was surprised it came with blue lining. It certainly suits the evergreen I chose, but she hadn't mentioned it. I am most impressed with the additional pen pocket, which has extra leather around the opening. It holds the opening stiff, keeping my fountain pens upright and easy to slide in.

Also included in the box was a simple leather keyring in light pastel green, which I think is a purchase gift. It's kinda cute and the leather is sturdy, so I currently have it dangling from the bag strap.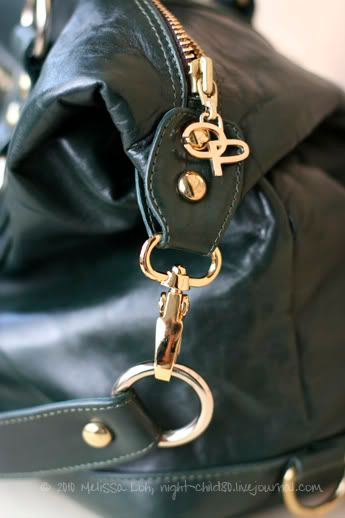 The polished plated gold hardware is solid and thus far is holding up really well with the amount of crap I cart around everyday. Which could probably be an entry in itself.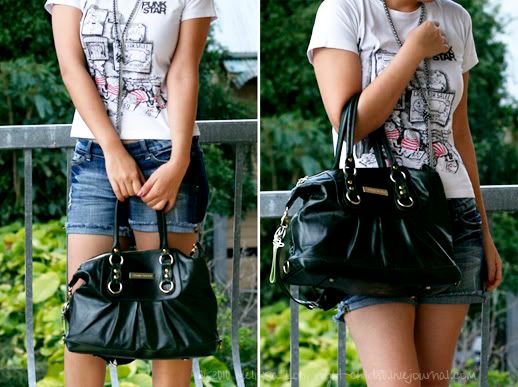 A girlfriend pointed out this bag looks like Coach's 2008 Sabrina. And looking at the Coach photos, they certainly look undeniably similar. I unfortunately can't seem to find authentic Coach Sabrina measurements to compare, which I've come to understand comes in 2 sizes: small and large.

Overall, it's a great bag and holds up really well as a daily work carrier. The calfskin leather is gorgeous, which has me curious about the lambskin versions Paulina has and I think is well-priced with good quality.