I first heard of Food Connect via Mel Kettle and have been um-ing and ah-ing about ordering from them the last 3 months or so.

Food Connect is a social enterprise that works with local farmers around Brisbane to deliver food to communities in a sustainable, affordable and efficient manner. So it's no surprise they can also be found on Twitter and Facebook. Their website has heaps of information, which seemed overwhelming at first, but I appreciated how much they share about what they do, how they do it and who they do it with.

After reading about how it all works, I sent two emails to sign ourselves up (one to enquire, one to provide our details) and made one phone call to Food Connect. My impression is that this initial phone call is compulsary to proceed. I spoke with Guinevere, who was absolutely lovely and talked through our first order and ensured we were all set up to make our orders online in future.

I ordered the minimum 4-week subscription of the mini box - $30 each, $120 total payment and opted to collect at the after-hours point - my nearest city cousin, who is not too far away from our home. Collection day for our area is Thursday and I felt excited, yet nervous about rocking up to a stranger's home after work to collect food. It felt like a first date and it turned out to be a great first meeting! Our city cousin was waiting for us and called my name, recognising me as the newbie in her list. She showed us how to collect, return the boxes, handed us our produce (which she said normally doesn't have names, but ours did and we learnt why) and let us get on our way.

So what did we get?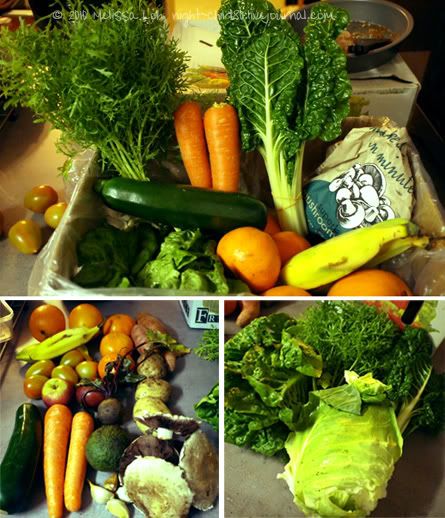 Beetroot x1

Cabbage xhalf

Carrots x2

Garlic x5 cloves

Lettuce x1

Mushrooms x4 (field)

Potatoes x3

Rocket x1 bunch

Silverbeet x1 bunch

Sweet Potatoes x2

Tamarillos x4

Zucchini x1

Apples x2 (lady william)

Avocado x1

Bananas x2 (came a little unripe, but it'll be ready for eating in 2 days or so)

Mandarins x3

Navel orange x2 (1 has been badly bruised on the top, but I can cut it off without a problem)


According to this week's harvest chart, it looks like we missed out on tomatoes and passionfruit. And I'm unsure what to do with the one little beetroot, which looks a little sorry by itself.

Looking at the entire loot on the kitchen bench, I'm a little sceptical this will get us through a whole week of meals. Our week's groceries usually looks a lot more, but we have a bit of wastage and I'm a hoarder, so maybe this is the right amount we should be buying per week. So far, we've eaten the rocket (the crunchiest and freshest we've ever had), a mandarin (lovely & sweet) and the mushrooms (pan fried with a little butter and soooo good). Quality wise, everything looks great, save the one navel orange.

Not all the produce is organic, but it's all chemical free. Read more about the produce.

There is also a newsletter, an A4 sheet of paper folded in half that has a write-up about this week's produce (in Week 34's case, the strawberries that are coming into season and the farmers who grow it), the conversation team (ie. the people you'll be speaking to whenever you call/email), what's going on at headquarters/homestead and 2 recipes.

Also on the very top of the pile was a little bouquet of flowers - from vegetables! I recognised the delicate white Chinese broccoli blossoms, chicken yellow bak choy flowers and one extreme lush plume of deep red, which I think might be from the beetroot.

So our first Food Connect box and experience is all thumbs up! We'll see how we fare at the end of the week and share what we get in our next box on Thursday.