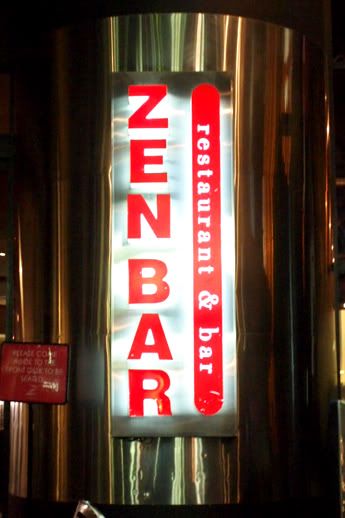 A friend invited us out to celebrate his birthday with some friends at Zenbar. I had never been to Zenbar before, so I wasn't quite sure what kind of cuisine to expect for dinner.

We were the 2nd couple to arrive and unfortunately for us, most of the other couples were late. It probably prompted our waitress to drop by several times to ask if we wanted drinks/starters/more drinks?/more drinks?!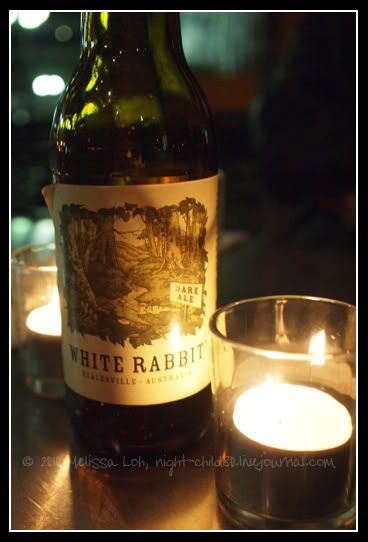 The SO had a beer called White Rabbit, which apparently is by the same team behind Little Creatures. He found it really enjoyable and had 2 stubbies.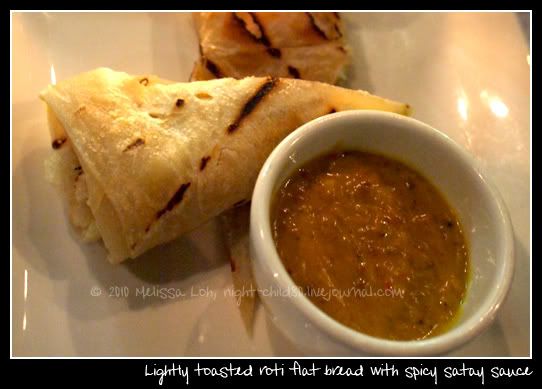 AUD 7.50



Roti prata is something the SO and I love to death. Whenever we're back in Singapore, we would have roti with a generous dipping of curry for breakfast. And what we're unfortunately used to is incredibly flaky, crispy and perhaps a touch too greasy prata.

Zenbar's prata is a little more limp and thankfully not as oily, but has the same flaky texture that's as once familiar. I can't say the satay sauce was very thrilling and I would've preferred something a little spicier.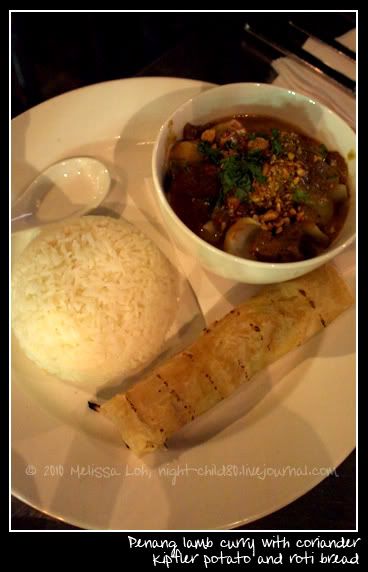 AUD 26.50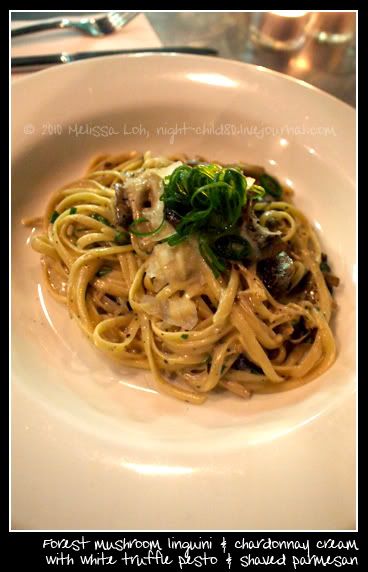 AUD 27.00



Having just returned from a trip to Asia, I didn't want to order anything Asian. It's like going to India and tasting the real deal, then not wanting to order Indian in a western nation to preserve the memory.

So I went with the cream linguine. The pasta was lovely and al dente. The mushrooms were tender and juicy, but I had problems with the cream. It made me a little sick and my tummy went a little queasy (resulting in me begging out of late night drinks to go home instead).



AUD 24.50



Now this was the real disappointment. Granted this dish is called 'Zen Pad Thai' and the restaurant can call it their own, you'd expect the flavours of a pad thai in a pad thai - fish sauce, tamarind juice, red chilli pepper, roasted peanuts, a touch of sugar.

Obviously we are familiar with Thai food and when the SO offered me a spoonful of his pad thai, my brows furrowed.

"It tastes funny, doesn't it?" He asked. I agreed and thought it must have tomato sauce in it. That flavour totally threw us and a friend off. The friend couldn't bring herself to finish her pad thai and poked the noodles around with her chopsticks for a good 15 mins, before leaving most of it on her plate.

The manager came around to confirm we were not satisfied with our meal and we explained that we had expected, well... pad thai. Instead the dish presented tasted tomato-y, almost like an Asian spaghetti. It was just bizarre to taste something so removed from its namesake.

The manager did kindly take both pad thais off the bill, but I reckon if it's Asian on the menu, I'd head a couple of streets down to Satay Club, Little Singapore, Madtongsan or Citywork for grub. It'd be cheaper and the flavours would be authentic.

What Zenbar has got right is its atmosphere. With the bold black and red decor, it isn't difficult to spend the whole evening chatting with friends over drinks.


Zenbar
Park Level
Post Office Square
215 Adelaide Street
Brisbane Qld 4000
Tel: +61 7 3211 2333
Fax: +61 7 3229 9410
Email: book@zenbar.com.au

Opening times:
Monday - Friday from 7:00am
Saturday from 6pm
Sunday and public holidays - closed