I'll admit that I'm not very familiar with Spanish food. I've had the odd paella or chorizo every now and then, but that's about the limit of my Spanish culinary experience.

The SO has a new colleague from out of state. His manager invited us to dinner after checking him into his hotel. With no idea what to have, we stumbled into Spanish Tapas Bar. The night was cold and I desperately wanted something warm and filling - paella!

While browsing the menu, the SO pointed out there was a conditions-of-entry policy that forbids photographing and reviewing them for commercial purposes. Following this, they state they reserved the right to refuse entry. The full policy was apparently framed and hung on a pillar, but being too far away and in such tiny print that I couldn't read it from where I was sitting, I didn't bother to get up to read the document.

Nonetheless this surprised me. I would've thought most establishments would be quite happy to receive feedback from patrons and publicity for their business. Since this blog and review are certainly not for commercial purposes, I decided to do as I do whenever I'm at a restaurant/eatery - take photos of my food and make my notes - albeit with a mental script to challenge anyone who dared to stop me from photographing my dinner.

Because there's a 30min wait for the paellas, we ordered some breads to accompany our sangria to curb our hunger pangs.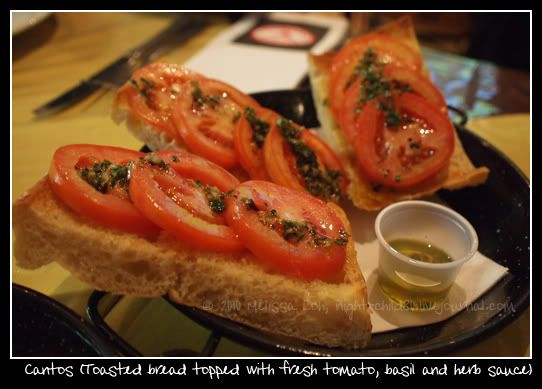 AUD$ 8.80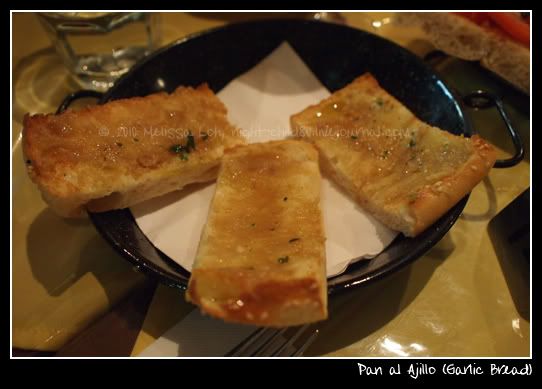 AUD$8.20



They arrive without any fuss, warm and crusty. The slices are certainly bigger than I expected, measuring about 15cm by 5cm.

The flavours are lovely, though I think the tomato is a little under-ripe and not as full-bodied as they could be. I happen to love my tomatoes really juicy ripe. It was also a little awkward to split 3 pieces of each equally between 4 people.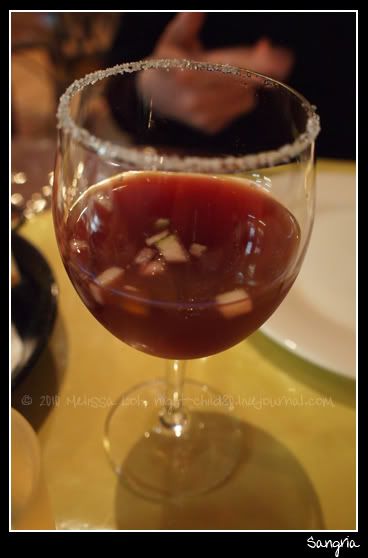 Bottle AUD$16. Glass AUD$8



Apparently this is homemade and the SO's manager jokingly called the fruit bits the 'fruit salad', which I believe is a combination of apple, pineapple and some type of citrus fruit. Really smooth stuff and given I am a picky drinker, when I say this stuff is smooth, I mean smoooooooth.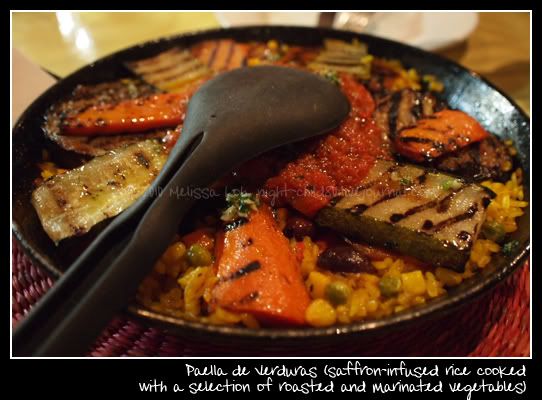 AUD$24 per person, requiring minimum of 2 people to order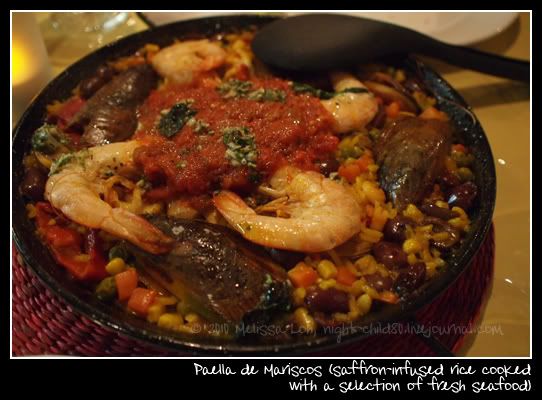 AUD$28 per person, requiring minimum of 2 people to order



The paellas arrived on time and the flavours were better than most other paellas I've tasted, but two things about the Spanish Tapas Bar paella experience left a bitter taste in my mouth.

The menu is quite text heavy. So while I noticed that ordering any paella required a minimum of 2 people, I didn't notice the listed price was for per person. This is of course entirely my fault, but I certainly had a rude shock when the bill arrived and rather than the $24/28 per paella, the charge was $48/56 per paella.

Given the price, I also expected perfectly cooked seafood. Unfortunately the prawns were overcooked and were rather dry. I also found 2 olive stones in the seafood paella and one in my scoop of vegetarian paella. That's not much of a problem for any of our party, but I'd imagine this would pose as a choking hazard for families dining with young children.

Service is great and possibly a little over-enthusiatic; we had a waiter ask how our meal was less than 3 mins after having it served to us, and were asked twice if we wanted dessert (we declined both times on account of being too full with paella).

Did I enjoy the experience overall? It was nice and I can certainly see its warm appeal.
Would I eat there again? Probably not. It's too pricey for a casual night out and did not deliver to the standard you'd expect from their price tag.


Spanish Tapas Bar
Shop 10, 455 Brunswick St
Fortitude Valley, QLD 4006
Tel: +61 7 3257 3138

Open Tuesday to Saturday 5:30pm till late