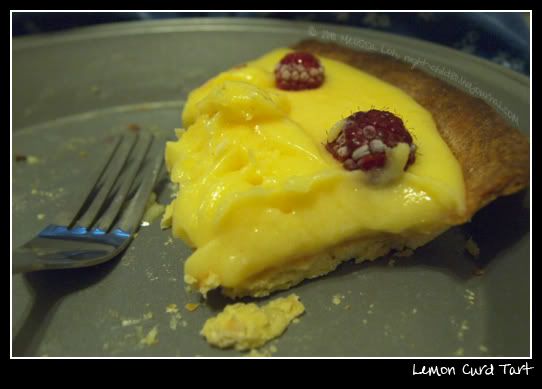 INGREDIENTS (LEMON CURD):
3 large eggs

80 ml fresh lemon juice (2-3 lemons)

150 gms caster sugar

56 gms butter, soft and cubed

1 tablespoon lemon zest
INGREDIENTS (PASTRY):
1.5 cups (210 grams) plain flour

1/8 teaspoon salt

113 gms butter, soft

50 gms caster sugar

1 large egg, lightly beaten
DIRECTIONS:
To make the lemon curd, place a stainless steel bowl with the eggs, sugar and lemon juice over a saucepan of simmering water. Whisk constantly to prevent the curd from curdling, until the mixture becomes pale in color and quite thick (like sour cream). This will take about 10 minutes. If not, increase the temperature of your saucepan water.


Remove from heat and immediately pour through a strainer to remove any lumps. Add the butter and whisk into the mixture until melted. Add the lemon zest, cover with plastic wrap, and let cool to room temperature.


For the pastry, place the butter and sugar in a mixer and beat until light and fluffy. Gradually add the beaten egg, beating just until incorporated. Over mixing will cause the butter to separate and lighten in color. Add flour mixture and salt and mix just until it forms a ball. Flatten dough into disk, cover with plastic wrap, and refrigerate for about 30 minutes or until firm.


On a lightly floured surface, roll out the pastry into a circle large enough to cover your tart tin, with 3-4cm edge to accommodate the sides. When the pastry is rolled to the desired size, lightly roll pastry around the rolling pin, dusting off any excess flour. Unroll onto top of tart pan and lightly press pastry into bottom and up sides of pan. Prick bottom of dough for a fork to prevent the dough from puffing up as it bakes. Cover and refrigerate for about 20 minutes to chill the butter and to rest the gluten in the flour.


Preheat oven to 205°C. Line the unbaked pastry shell with baking paper and fill the tart pan evenly with pie weights, rice or beans. Bake the crust for 20 to 25 minutes or until the crust is dry and lightly golden brown. Remove weights and cool crust on a wire rack before filling.


Once the pastry shell has cooled, evenly fill with the lemon curd. The tart can be served immediately or covered and placed in the refrigerator. Serve plain or with softly whipped cream and fresh berries.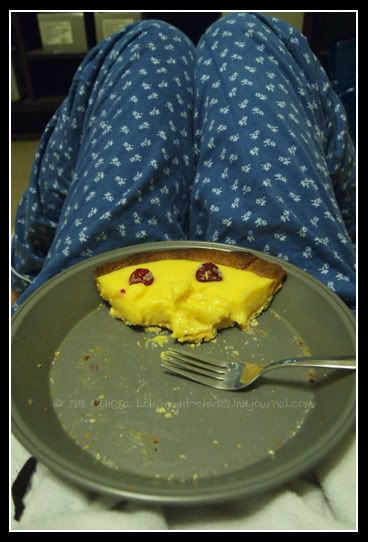 Or in my case, on my lap in front of the telly.
With a tea of cup, of course.