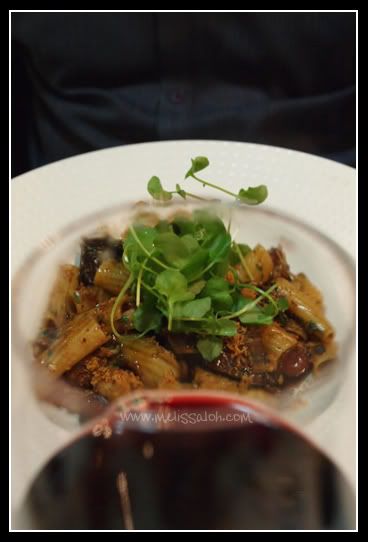 Named after what some call one of the greatest wines, Barolo was an establishment the SO was sure I would love, but I had been constantly putting it off. So the SO turned an 'early night' into a night out, which had me walking home at 11pm, but the food made up for the lack of sleep. Says a lot, doesn't it?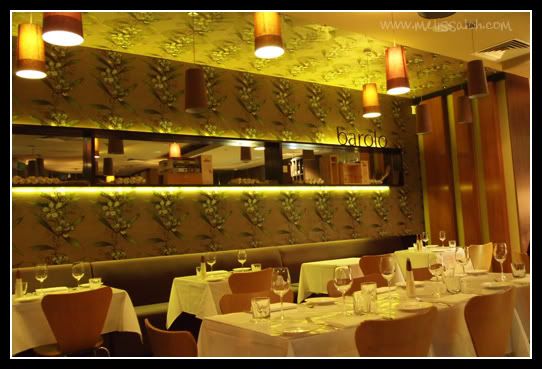 The establishment is chic, modern and offers two distinct dining areas: the courtyard outside, where one can watch the world go by and bask in a little sun, or the more swanky interior covered in vibrant wallpaper and wood panelling, which is better suited for the chilling nights.

Barolo seats about 80 people with enough room for movement, thus ensuring you are not forced to eavesdrop on the conversation at the next table.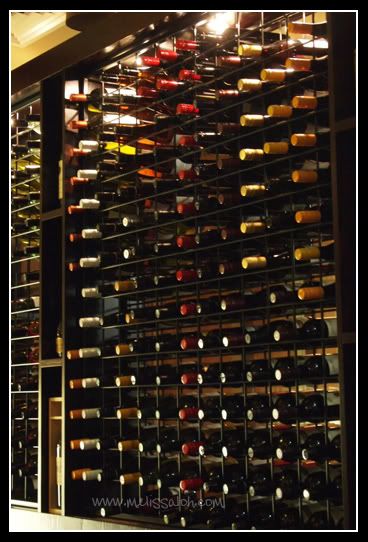 The host was very attentive, but it was a little late and we were one of only 3 tables. Already sporting a headache, I passed on any alcohol and opted to stay hydrated with water, while I perused the menu.

Now don't look confused when the waiter offers you a black menu with silver embossed lettering of 'Armstrong'. You're not at the wrong establishment. Barolo belongs to Australian celebrity chef Russell Armstrong.

And it's a pretty long menu: a choice between a chilled or hot tapas share plates (for 2), 2 types of bread, 4 entrees, 6 pastas, 6 mains and 4 sides.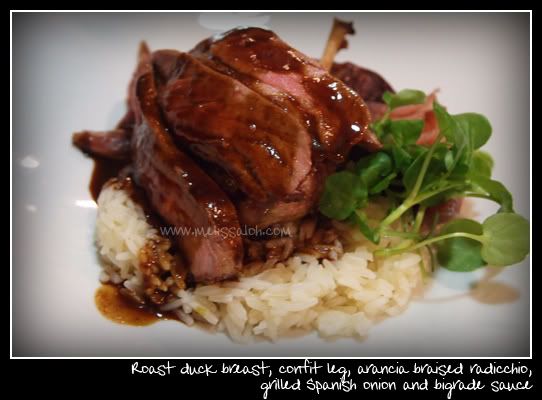 AUD$38



After learning how duck confit is made, I proclaimed that I would never have the patience to make it at home. The SO jumped at the chance to try this out and was not disappointed. The duck was a perfect pink and so juicy. The SO enjoyed the flesh closest to the end of the bone best, as it seemed the flavour was more concentrated there.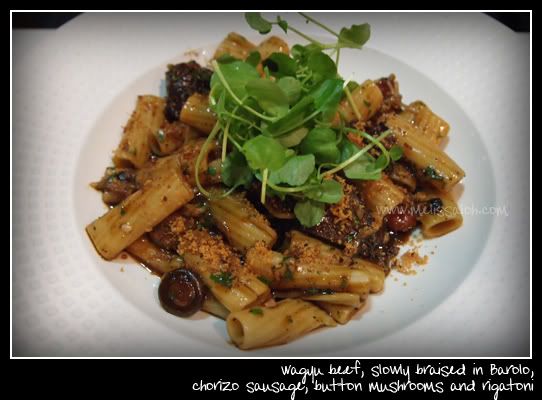 AUD$26



Our dining companion went with the wagyu beef and it was cut in chunks.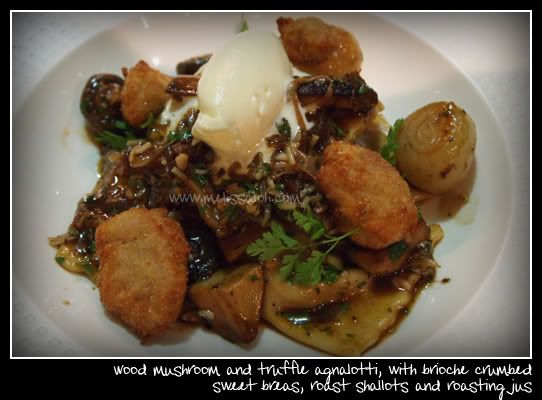 AUD$24



In honour of its namesake, Agnolotti is a kind of ravioli typical of the Piedmont Region, made with small pieces of flattened pasta dough, folded over with a roast beef meat and vegetable stuffing. In my case, glorious mushroom and truffle - the perfect umami combination of wet-yourself-in-joy.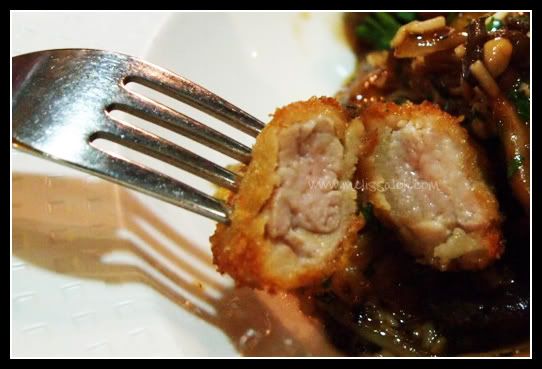 Sweet breads are not sugary carbs. They refer to the thymus and the pancreas of the calf, pig or lamb. So that makes it offal. Yummeh! If you've never tried it, you probably won't find it the least bit offensive. It is a juicy cut that is extremely tender and tastes extremely mild.

Portions are perfect and I was stuffed, but the SO and our dining companion wanted to try the dessert.



AUD$14.50



This dessert came with a warning that it required 15 minutes, but the SO was adamant to try it. However, 15 mins later, the host came to our table to say that unfortunately the clafoutis didn't come out right and they were having to re-do it.

Talk about service! Ordinarily I would expect most chefs to churn out the food and unless it was undercooked, to serve it and hope the customers wouldn't notice. Not when you're dining here. Big thumbs up!

However the SO and I cannot agree on this - he enjoyed the dish immensely, whereas I didn't. The fig was not caramelized and I couldn't get past the heavy egg taste. I would've preferred a stronger raspberry flavour, which I found in the vanilla cream (yumyumyum).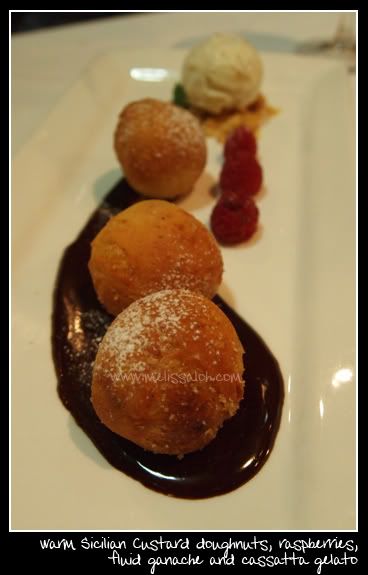 AUD$14.50



The smell of these was enough to get my saliva working overtime. The warm greasy smell of dough... mmmmm...




Barolo
26 Felix Street
Brisbane, QLD 4000
Tel: +61 (0) 7 3211 7101
Email: info@barolo.com.au

Opening hours:
Monday - Saturday 07:00 to 15:00, 17:00 to 22:00