The Country Women's Association of Australia is the largest women's organisation in Australia. Their main goal is to improve the conditions for women and children, and make life better for families, especially those living in rural and remote Australia.

And one of the many activities they do to promote their cause is collect recipes from members across the country to publish in cookbooks. These were first compiled in 1937 in New South Wales and they've continued this tradition. The recipes use simple ingredients (nothing gourmet you'd have to trapse to the other side of the world to get) and are so easy to follow. My mother-in-law's most used cookbook is her CWA from the early days of marriage.

With the extra limes from my birthday gig and the brand new silicon bakeware from the sis-in-law (big thanks!), I thought to shut the SO's whining about the lack of cake with a quick one from my copy of the Country Women's Association Cakes.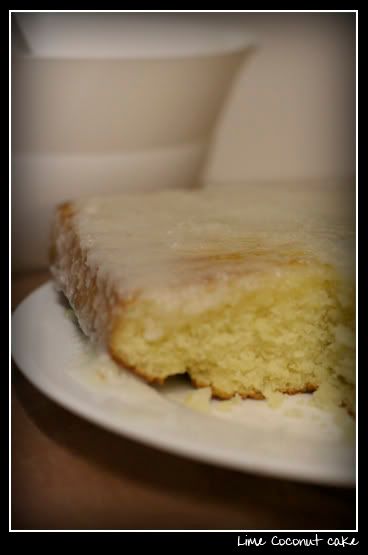 Recipe by Elaine Youd, Devonport Branch

iNGREDIENTS (serves 8)

1.5 cups self-raising flour

0.5 cups desiccated coconut

1 cup sugar

2 eggs

1 cup milk

125 gm butter, melted

grated zest of 3 limes
Icing
1.5 cups icing sugar

0.5 cups desiccated coconut

0.5 cups lime juice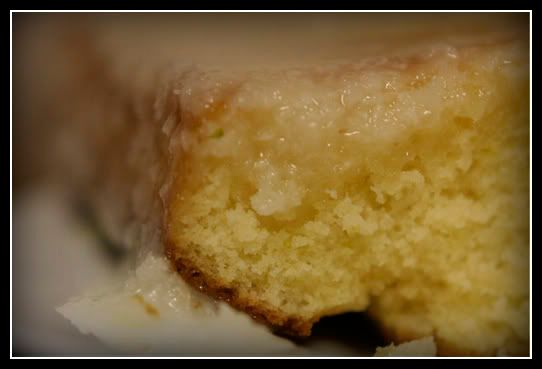 DIRECTIONS:
Preheat the oven to 160°C. Grease a 20 cm square cake tin.


Shift the flour, coconut and sugar in a large mixing bowl and make a well in the centre.


In a seperate bowl, beat the eggs, milk, melted butter and lime zest. Pour the egg mixture into the well in the dry ingredients and mix. The mixture is supposed to be sloppy, so don't worry.


Pour the mixture into the tin and bake for 45-50 mins.


To make the icing, mix the shifted icing sugar with the coconut and lime juice. Ice the cake when it's cooled.


The result is a moist tangy cake that screams summer and sunshine.

For anyone who feels intimidated by baking, or is just looking for a good cookbook that goes back to the basics, get the Country Women's Association: Cakes.

My copy wouldn't have been possibly without Lauren and Chooi Guan. Thank you for such a brilliant birthday present!