As the temperature drops on this side of the hemisphere, a carving for piping hot foods your fingers can barely stand to hold grips me and I find myself daydreaming of tearing into a warm sausage roll from the pie cart not far from the office.

However, most commercially bought sausage rolls are full of saturated fat and too much salt. Not an entirely healthy choice, but it can be if you make them yourself at home with lean mince and you control the salt content you sprinkle into the mix.

You can also use sausage meat, but take into account that most sausages are two-thirds meat and a third fat.

This also makes a great little entree for parties. Just cut each log into 1.5inch thick slices for party sized bites.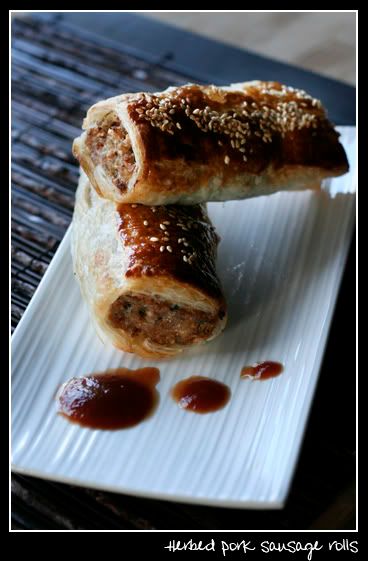 Makes 8 rolls

INGREDIENTS:

1/2 cup fresh white breadcrumbs

80ml (1/3 cup) milk

400g pork mince

1/2 onion, finely chopped

1 tbsp dried thyme

1 tbsp dried ground sage

1 tbsp lemon pepper

1 egg, lightly beaten

Sale to taste

2 sheets frozen puff pastry, just thawed

Sesame seeds, to sprinkle

Tomato sauce (ketchup) or barbeque sauce, to serve
DIRECTIONS:
Combine breadcrumbs and milk in a bowl and set aside until milk is absorbed. Mix well with pork mince, onion, spices and salt with a spoon, your hands or food processor.


Place a sheet of pastry on a lightly floured surface and cut horizontally into two. Spoon a quarter of the mixture along the centre of each piece of pastry. Roll into a log, with edges slightly overlapping in the centre. Repeat with remaining pastry and filling to make 4 rolls. Cut each log in half.


Place rolls, seam side down, on a baking tray lined with baking paper. Brush tops with egg and sprinkle with seasame seeds.


Preheat oven to 180°C. Line a large baking sheet with non-stick baking paper. Bake for 25-30 minutes or until golden and puffed. Serve warm with choice of sauce.


Comfort food extraordinaire!