For any occassion, the surest way to guarantee my happiness is to wine and dine me. And no one knows this better than the SO.

So what do you do when it's a Monday and most establishments are closed, our 7th year anniversary is tomorrow, but you have to fly to another city for the rest of the week and I have just donated 470ml of blood, thereby not keen on eating anything?

The SO whipped out his iPhone and shook it like a crazy maraca on the Urbanspoon app, which threw up Vespa Pizza.

It would be easy to walk past their wide glass window on the Merthyr Road pavement without batting an eyelid, but you'd regret it. They offer 3 seating areas: out on the pavement, inside with booths and tables close to their wood fire oven and down the side of the shop, which appears really romantic and cozy for a big date - tea lights for romantic lighting and small intimate tables. Unfortunately with the bit of heatwave we're having, we begged for the coolest seat in the house: right under the air-conditioner.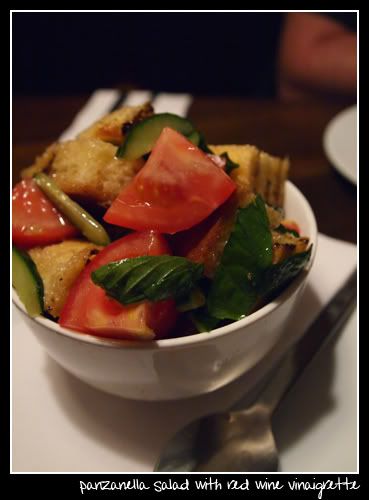 Panzanella salad with red wine vinaigrette. AUD$9.50



We have never had a panzanella, which originates from the regions of Tuscany, Umbria, Marche and Lazio. It's basically a bread salad with fresh tomatoes, basil, olive oil and vinegar. The bread traditionally used is day- to week-old saltless Tuscan bread made in a wood oven.

The Vespa Pizza version is a toss of chunky squares of bread soaked in the olive oil and vinaigrette, which is fresh and tangy - with juicy quatered tomato, crisp cucumber slices and fresh basil. The serving comes in a perfect little bowl for 1, but we shared. I especially loved the smoky chargrilled flavour that lingers in your mouth after the tang from the vinaigrette has ebbed away.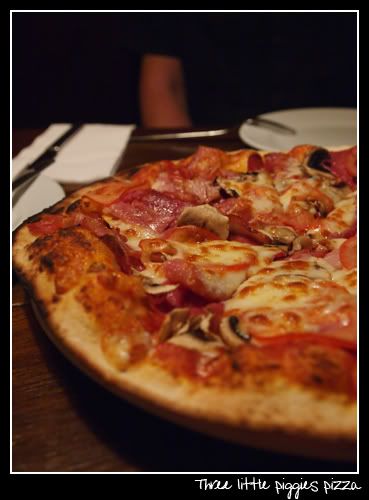 3 little piggies: salami, bacon, pepperoni w mushroom, tomato and mozzarella. AUD$19.50



These pizzas are all wood fired, so don't even think about comparing these babies to run-of-the-mill pizza chains like Pizza Hut, Eagle Boys and Dominos.

I peeked in the back kitchen and saw an employee scrubbing out the industrial size mixer, so these bases are made inhouse. The thin crispy base gets slightly charred around the edges, adding to the raw earthy flavour. And as they're not overloaded in sauce or cheese, your tastebuds get the full flavour orchestra of the ingredients - a big added plus.

That said, I'm not a fan of pork pizzas - my preference is beef and/or chicken, so I nibbled on 2 slices. This was entirely the SO's gig, which he enjoyed thoroughly.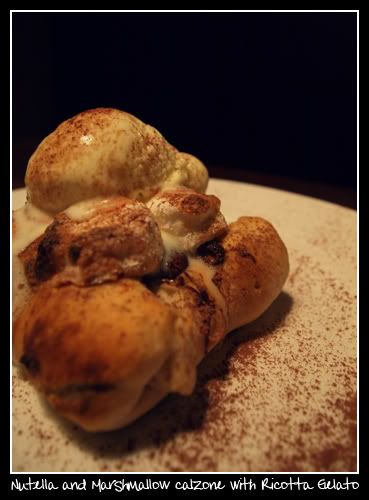 Nutella and marshmallow calzone with ricotta gelato. AUD$9.50



After the salad and pizza, we debated on whether we should push our stomachs further and take on dessert. The SO insisted I would have to have the lion's share, but he simply couldn't resist trying it.

And oh my god, if you are a fan of the truely sinful, this is the pièce de résistance, the créme de la créme, the big O. Served hot, the rich delectable smell of fresh warm crusty dough with hazelnut is enough to make anyone wet both ends. But we had to eat it quickly, as the creamy gelato melted.

To quote the SO between mouthfuls: "Oh my god... this is... marshmallow on top of marshmallow... on top of dough... on top of nutella... with gelato... bitch!"

Oh, and I most certainly did not get the lion's share. After a proclaimation like that, the SO was wolfing it down like a starving child from a Third World nation. You'd think he didn't eat half a bowl of salad and a pizza just 15-20 mins earlier.

And like the SO, I have found my new favorite way to have Nutella.


Vespa Pizza
148 Merthyr Rd
New Farm QLD 4005
Tel: +61 (07) 3358 4100

Open Mon-Thu,Sat-Sun 5pm-11pm; Fri 12pm-2pm, 5pm-11pm
Street parking